Watch Video
All in General Options
Enormous Projects
Risk Unawareness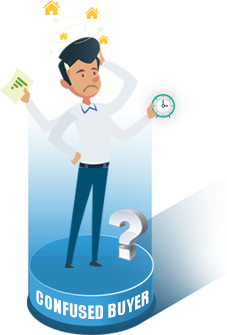 Do You Want Experts Guiding You with Complete Area Analysis on
Projects

?
Are you a buyer who wants to know which property best suits your requirements?
Do you want

transparent

and

reliable

information to make informed decisions?
Do you want to hire the services of a professional, who has the in-depth local expertise and can provide unbiased advice to you?
Although you know where to buy, how much you can spend, and what your family needs. But, are still not able to decide which house to buy?
Do you want site visits with professionals walking you through the project's historical information?
Do you want to know if the project you have chosen is the best match for your family?
Do you know the Pros and Cons of Buying Your Dream Home?
No Worries !
We are Professional Property Experts
Who Guide you with
100% Transparency
We have a dedicated team of specialists to take you on 5 project visits of your choice. They will guide you with complete area analysis and project historical information so that you can make profitable decisions.
We don't have a financial contract or tie-ups with any builder or developer. For example, we don't earn any commission from builders.
Our team is adept in handling your queries and concerns as they have a minimum of twenty-four months i.e.

18000 hours of experience

working in the real estate sector.
We are here to guide you by understanding your requirements, analyzing the market information, sharing relevant information, connecting you to the sellers, to enable you to decide quickly
We are not involved in the property transaction process like negotiation, property documentation, document verification model. Instead, we believe in sharing information and

educating buyers

with Real Estate market inputs.
Local Expertise
Experts Guidance
Personalised Assistance
Site Visits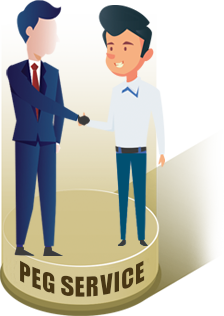 We will explain and resolve all your queries before we start on the project visits
After you shortlist five such projects, we take you on a

site visit

to help you evaluate all these projects.
Avail Property Expert Guidance by following below
4 Steps

Step
- 1
Book An Appointment
Register at www.propertyadviser.in to avail PEG Service
Login to www.propertyadviser.in with your User Id or Facebook/Google account.
Click on Property Expert Guidance from home page and select the zone in which you want to start your house search.
After selecting the zone, choose any five areas in that zone
Select the date that is convenient for you.
You can avail the complete

6 Hours

of service between 10am to 5pm as per your convenience.(excluding the lunch 1 hour)
Service Pricing Information
Hyderabad Zones
Weekdays(Mon-Fri)
Weekends(Sat-Sun)
North West Zone
(Ameenpur) +16 Areas
3500/-
3500/-
West Zone
(Banjara Hills) +14 Areas
3500/-
3500/-
North Zone
(Alwal) +30 Areas
3500/-
3500/-
South West Zone
(A C Guards) +23 Areas
3500/-
3500/-
North East Zone
(Amberpet) +36 Areas
3500/-
3500/-
South East Zone
(Adibatla) +26 Areas
3500/-
3500/-
*FLAT 40% OFF
Hurry Up, This offer is valid from February 1st to February 29th

Pay the specified amount through our online payment gateway. After paying, you will get a confirmation email & SMS.

A representative from our team will call you to understand your requirements such as location, family preferences, size, budget and so on..
Based on your inputs, he/she will send you 10 projects from our database that matches your needs, one day before the appointed day.
Pick any 5 projects that you prefer to visit and analyze.

Step
- 4
On the Day of Appointment
Our team takes you on a site visit.
With expertised real estate knowledge from monthly visits. He/She will provide you with insights, that are not only evident but also be valuable to you.
What Our
Customers

Say
I am delighted with the remarkable service of the Property Adviser team. The Zonal Representative's complete knowledge of areas, especially the monthly updates on all properties, is beneficial for the customer to understand the projects with precise information. I would certainly like to suggest this service to others and am interested in participating in your future events/property shows.
T. Srinivas
Assistant Engineer , at TSGENCO
I was looking for advisors on the web and came to know that PropertyAdviser.in have launched PEG services to help prospective buyers at a low cost. During the site visit, with good networking abilities, the executives were well acquainted with pricing trends in the sector. They were very helpful to an elderly person like me to select a suitable apartment within my budget at a shorter time. Wish you and your team every success in your future endeavours.
A Venkataratnam
Retired Employee
I was extremely satisfied with the expertise advisory services of your Zonal Representative, he has excellent knowledge about the area and communicated politely. Would like to take part in your future events and will definitely inform my friends about your services.
After going through a lot of websites I found PropertyAdviser.in in Quora and was very happy with the guidance of the PEG team. They were very patient, informative, and helped me a lot in understanding the conditions of this new locality. I appreciate their friendly assistance and surely recommend my companions to use this service.
Customized Projects
Smarter Decisions
On-Ground Knowledge
Value For Money
Time Saver