Kokapet - Area, Facilities & Lifestyle
How is life like in Kokapet? What kinds of amenities are available? Read on.
Amenities & Lifestyle in Kokapet
Kokapet, which was a tiny village called "Kotham Kunta" in the 19th century is now a fast developing area replete with world class amenities for every aspect of your life. It is now an add-on area for the Financial District.
Existing Amenities in Kokapet
The 16,000 odd residents in Kokapet have access to well-paying jobs in the IT Parks within a few kilometers - in Gachibowli, Financial District and Hitech City.
There are excellent amenities within Kokapet to make the lives of the residents easy, interesting and happening!
Food & Beverage
Hotels
(1)
, Reputed Food
(5)
, Joints
(2)
, Drive-in Restaurants
(0)
, Bar
(1)
, Restaurant
(5)
, Cafe
(2)
, Weekly Fruit & Vegetable Market
(1)
Health, Beauty & Fitness
Fitness Centers
(4)
, Clinics
(5)
, Reputed Salons & Spa
(5)
, Government Health Centers
(1)
, Medical
(2)
, Diagnosis Centers
(5)
Education
International School
(3)
, Engineering Institutes
(2)
, Junior Colleges
(2)
Transport
Fuel Stations
(3)
, Bus Stops
(2)
Retail/Other
Banks
(3)
, Super Markets
(3)
, Apparel Stores
(1)
, Art & Craft
(1)
, Books & Toys
(2)
, Cricket Ground
(1)
, Outdoor Play Stations
(2)
, Home Interior Outlets
(1)
Upcoming Amenities in Kokapet
Kokapet is the hotspot for development and is set to be the best township in the country. Apart from roads, electricity and water facilities, that the government is working on, a lot more amenities are underway.
Retail Commercial Spaces
Kokapet SEZ Development
SEZ ORR Connectivity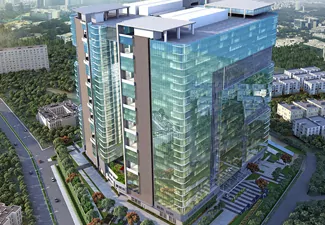 Property Adviser Team Repeatedly Surveys Kokapet
Our team revisits Kokapet area every month and updates information on a real-time basis, about area development, amenities and real estate activities.
Our efforts are helpful for Kokapet Real Estate Connection. Enthusiasts, buyers, brokers, bankers and builders can benefit.
You can find unbiased information on this site.
Property Adviser teams have spent
1000+ Hours
60+ visits.
We post unique and verified listings in Kokapet.
Area Level Insight for Kokapet
Kokapet is spread over 6 square kilometers (close to 1500 acres).
It has a rocky terrain, and that makes it suitable for high-rise projects.
GO-111 on Gandipet limits the construction of high-rise buildings in Gandipet area, and since Kokapet is close to Gandipet, Kokapet area gets to enjoy open air and view of Osman Sagar lake.
Project Level Insight For Kokapet
Real estate development in Kokapet started with villa constructions.
Lately the focus is on high-rise apartments.
More than 50% of projects are developing as high-rise apartments.
Kokapet is touted as the Manhattan of Hyderabad.
HDFC and ICICI are majorly offering home loans in the area.
---
Narsingi - Area, Facilities & Lifestyle
How comfortable is it to live in Narsingi? Let's find out.
Amenities & Lifestyle in Narsingi
Narsingi is a "green" area with lush green surroundings for nature lovers. It is developing to have various facilities needed for a comfortable living.
Existing Amenities in Narsingi
Narsingi lies within 3 to 6 Km range of other popular areas like Kokapet, Puppalguda, Nanakramguda, Financial District, Gandipet, Khajaguda and Manikonda.
There are already amenities in place, especially schools, since 15% of the population of Narsingi is under 6 years of age.
Food & Beverage
Hotels
(2)
, Dhabas
(3)
, Bar & Restaurants
(2)
, Vegetable Markets
(2)
, Bakery & Sweet Shops
(5)
Government Facilities
Government Health care Centres
(1)
, Primary Veterinary Centre
(1)
, Sub Registrar Offices
(1)
, Police Stations
(1)
, Government Social Welfare
(1)
, 33/11 KV Electrical Outdoor Sub Station
(1)
, Agriculture Market Committee Office
(1)
, Mee Seva Centres
(1)
, Bus Stops
(2)
Education
Government Schools
(1)
, Residential Educational Institutions
(2)
, Private Schools
(2)
, Play Schools
(3)
Transport
Bus Stops
(5)
, Petrol Pumps
(6)
Retail/Other
Convention Centers
(4)
, Banks
(4)
, Small Kirana Shops
(15)
, Temples
(2)
Upcoming Amenities in Narsingi
The government is on an infrastructure development spree in Narsingi with link roads, slip roads and service roads either already sanctioned, or already under development. Apart from that, there are more amenities in the pipeline.
Metro Rail Connectivity
ORR Exit
Shopping Malls
Property Adviser Team Repeatedly Surveys Narsingi
It is our endeavor to bring fresh and authentic information to property buyers, developers and other stakeholders. Property Adviser teams regularly visit Narsingi.
Home buyers can find unbiased information on this website to help you make well-informed decisions.
Property Adviser team has spent
1100+ Hours
65+ visits.
We have unique and verified listings with information updated in real time after every team visit to the area.
Area Level Insight for Narsingi
Narsingi is spread over 7 square kilometers (about 1700 acres).
Narsingi enjoys excellent connectivity with neighbouring IT hubs like Nanakramguda, Gachibowli, etc. For this reason, it is a preferred residential destination for IT professionals.
Property prices are currently cheaper compared to neighbouring areas.
The upcoming IT SEZ in the adjacent Kokapet can result in price appreciation in Narsingi.
Development will also pick up pace in the coming years.
Narsingi is thus a golden opportunity for buyers and investors.
Project Level Insight for Narsingi
Price/SQFT in Narsingi

For apartments - Rs. 4900 to Rs. 6400.
For Villas - Rs. 10000 to 14000.

ICICI, HDFC and LIC are among the banks providing home loans for projects in Narsingi.