In this section, we bring to you details about the areas that lie within close range of Miyapur and Bachupally , the modes of transport, and total area.
Miyapur - Connectivity, Transport, Total Area
Miyapur is less than 12 kilometers from Hitech City, and no wonder that a lot of techies and other employees working in the IT parks in Hitech City and Gachibowli live in Miyapur and surrounding areas. There are several residential neighborhoods within close proximity to Miyapur.
HYDERNAGAR – 2.7 Km (6 min)
NIZAMPET – 5 Km (12 min)
PRAGATINAGAR – 7 Km (17 min)
BACHUPALLY – 5.8 Km (11 min)
MALLAMPET – 7.5 Km (17 min)
BOWRAMPET – 11.6 Km (24 min)
CHANDANGAR – 4.5 Km (10 min)
RC. PURAM – 8.8 Km (16 min)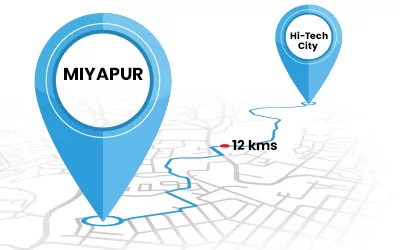 When it comes to roads, it has national highways NH 65 and NH9, and the Inner Ring Road.
The best thing about Miyapur is that apart from the Miyapur Bus Depot, an Inter-City Bus Terminal (ICBT ) is coming up in the area, at an estimated cost of 100 crores. It will be one of the largest bus stations in India with 200 bus bays constructed across a sprawling area of one lakh square feet.
If you want to travel to the east of the town, Miyapur houses the Miyapur Metro station, which is the terminal for the metro line starting from L.B. Nagar.
Hafeezpet is the nearest MMTS.
There are abundant auto rickshaws, cabs and rental cars to help you commute from Miyapur.
Total Area of Miyapur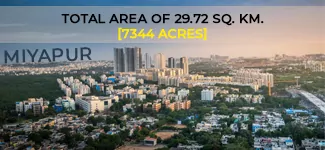 Miyapur is a large area spread over 29.72 Sq. Kms (7344 Acres) 20% of the land is commercial and 70% is residential.
At Property Adviser, we offer you unique and verified listings in Miyapur, with monthly updates and a totally unbiased approach for buyers.
---
Bachupally - Connectivity,Transport, Total Area
So we know that Bachupally is the current hotspot for real estate development in Hyderabad. But how does it fare on connectivity? Well, Bachupally is quite close to popular residential neighborhoods.
MIYAPUR - 5.8 Km (9 min)
MALLAMPET – 1.7 Km (4 min)
NIZAMPET – 3.4 Km (7 min)
PRAGATHINAGAR – 5.9 Km (11 min)
BOWRAMPET – 5.8 Km (12 min)
We are able to access Bachupally via ORR, Miyapur Road, Bollaram Road, Nizampet Road and Pragathi Nagar Road.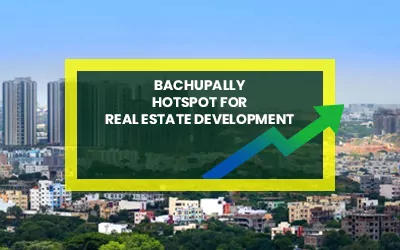 Connecting Bachupally to other prominent places of the Andhra Pradesh Telangana,Maharashtra,Karnatka States.
The nearest MMTS train station is at Hafeezpet. Nearby metro stations are Miyapur and JNTU College.
Total Area of Bachupally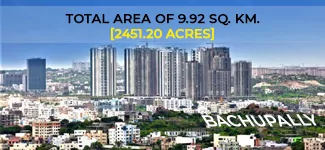 Bachupally has a total area of 9.92 Sq. Km. (2451.2 Acres), with a population density of 2297 people per Sq. Km.
The distribution of land is 50% residential , commercial is 15% in Bachupally. Government land bank is less than 5% and available land bank is 30%.
Property Adviser is a one stop shop for unique and verified listings in Bachupally, with monthly updates and an unbiased approach.