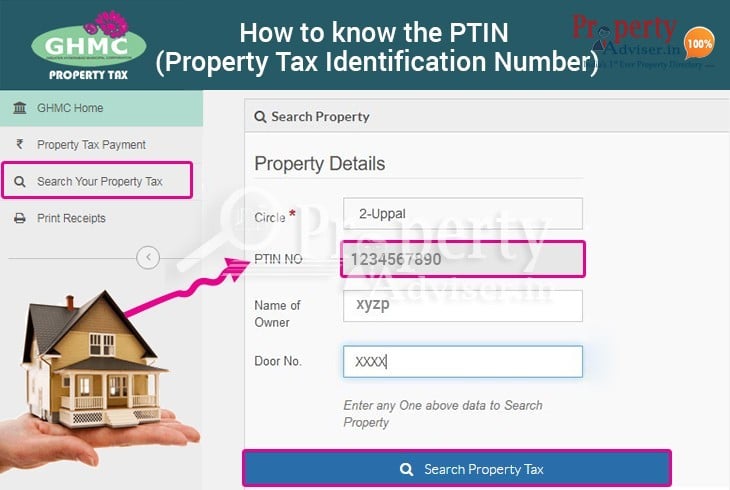 09:33 AM
10
May
2018
To ensure safe and smooth civic facilities, state governments impose a property tax on landowners.
GHMC Property Tax Dues
Every year property owners in Hyderabad are liable to pay property tax without fail or a penalty interest of 2% per month is levied on the outstanding amount.
The end date to pay GHMC property tax for the half year is July 31 and October 15. One can easily find his/her property tax by visiting the GHMC website.
What is PTIN?
Property Tax Identification Number (PTIN) is a unique 10-digit number issued by GHMC to every Independent house, villa & apartments in Hyderabad to pay GHMC property tax. In other words, if you own three properties, you will be allotted three PTINs.
Why Do You Need a PTIN Number?
You can use the PTIN to find out how much property tax is needed to pay. You can search the payable the GHMC property tax by using the PTIN search option available on the website.
Steps to Find the Payable GHMC Property Tax
Step 1: Visit the GHMC website.
Step 2: On the left side menu bar, click on "Property Tax Payment".
Step 3: Enter the PTIN.
Step 4: Click on "Know Your Property Tax Dues". The search results will display the tax payable details.
How to find GHMC property tax details by door number?
If you are not aware of your PTIN which is used to check your property tax. Then with the help of your door number, you can find the required details. One can easily check his/her property details by visiting the online GHMC property tax portal.
Follow the steps given below to find your PTIN:
Step 1: Click "Search Your Property Tax" on the left menu.
Step 2: Choose your GHMC Circle.
Step 3: Enter your door number.
Step 4: Click "Search Property Tax". The search result will display the PTIN for the property.
If your Door Number is not available, you must apply to GHMC asking for an assessment of the property. The application will result in allotting a new door number, as well as a PTIN number to your property. You can request for property assessment offline or online.
Offline Request for Property Assessment
You need to submit your application to the Deputy Commissioner. The list of documents you must submit along with your application are as follows:
Registered sale deed/gift deed/partition deed attested by a gazetted officer.
Link documents attested by a gazetted officer.
Copy of the building sanction plan.
Occupancy certificate.
Online Request for Property Assessment
Keep the following documents ready in the PDF format.
Building permission
Occupancy certificate
Sale Deed
You can access the Self Assessment Form online, by entering all the required details it will be forwarded to the concerned department. By inspecting the premises they will further levy the property accordingly. After this procedure, a new PTIN will be allotted for the owner.
If you want to modify your independent houses or villas in Hyderabad like extending a portion of the house or build another floor. There will be no change in the PTIN only the amount of property tax will increase.
How to Pay Property Tax Using PTIN?
Step 1: Visit the "GHMC property tax" online portal
Step 2: Enter your PTIN in the PTI No.
Step 3: Click "Know Your Property Tax Dues".
The details of the property like door number, PTIN, and the amount of property tax that you must pay will display. You can choose from any of the payment options: Debit/Credit Card or Net Banking.
For more details, log into www.propertyadviser.in.
---