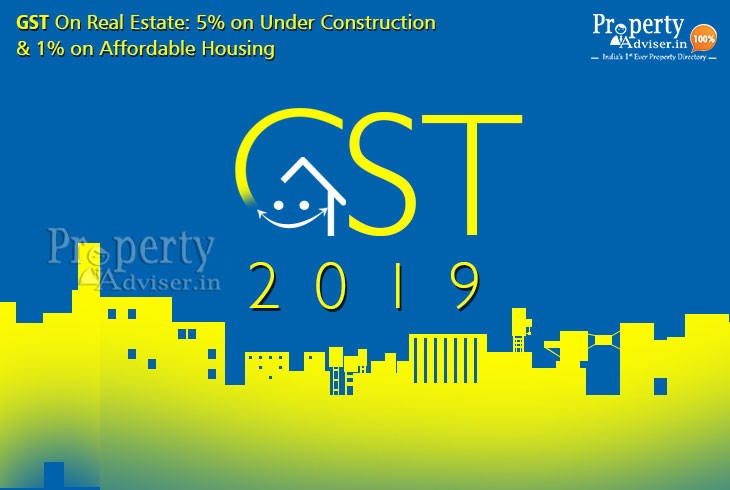 10:08 AM
08
Mar
2019
GST Council has approved the proposal of 5 per cent tax on residential properties and 1 per cent for affordable housing. These taxes are valid from 1st April 2019.
There is a huge change in the GST rate in the real estate sector. Many buyers have confusion about the applicability of GST rate on real estate. However, recently the GST Council has issued a clarification regarding the applicability of Goods and Services Tax (GST) on the under-construction and completed properties.
Let us understand in brief about the new GST rate on under construction properties and ready to move properties.
Is GST Rate Applicable On Ready-To-Move-In Properties?
Transfer of completed property will not have any service part to the buyer. Hence, GST will not be applicable in such sale transactions. So, if you buy a ready to move property, then you may save the GST cost.
Is GST Rate Applicable On Under Construction Properties?
The proposed new GST rate on under construction property will be classified as below.
If the builder got the completion certificate before you purchase it, then it is considered as ready-to-move-in property. Therefore, no GST on such properties.
If you paid the full amount of property after the GST implementation, i.e. 1st July 2017, in such transactions GST is payable by the buyer.
Key Points of New GST Proposal
The GST tax rate for under construction properties or ready-to-move-in flats, where the completion certificate is not issued at the time of sale is currently at 12% with full Input Tax Credit (ITC). For affordable homes, the existing tax rate is 8%.
On 24 Feb 2019, GST Council decided that after removal of ITC, the rates will be 5 % for normal housing projects and 1 % for affordable homes.
A residential property, with a carpet area of up to 90 sq.mts in non-metropolitan cities and 60 sq.mts in metro cities (Delhi-NCR, Bengaluru, Chennai, Hyderabad, Mumbai-MMR and Kolkata) with the value up to Rs 45 lakhs would fall under the affordable housing category.
Effective from 1st April 2019, the GST applicable for affordable homes is 1% without Input Tax Credit (ITC).
Know In Detail About the New GST Rate in a Tabular Form As Below.
| | | |
| --- | --- | --- |
| Type Of House | Existing GST Rate | New GST Rate (1st Apr 2019) |
| GST On Premium & Normal Homes | 12% With ITC | 5 % Without ITC |
| GST On Affordable Housing | 8 % With ITC | 1% Without ITC |
Advantages of New GST Rates
The reduction in GST rates will give a boost to the Housing for All mission and fulfil aspirations of the middle-class people.
This decision is certainly going to give a good boost to ready to move apartments because people wait to buy completed properties to save the GST Cost.
Property Adviser team collects information, analyse and verify the details, take pictures of every project and update the information every month on the website. It helps you to get the latest information on every project in Hyderabad. Choose the best flat from 395 ready to move apartments in Hyderabad. You can classify projects by location, budget range, unit type (1 BHK, 2 BHK, 3BHK and so on), and occupancy time and so on. Visit us and reach your dream home quickly.
By: Shailaja K
---