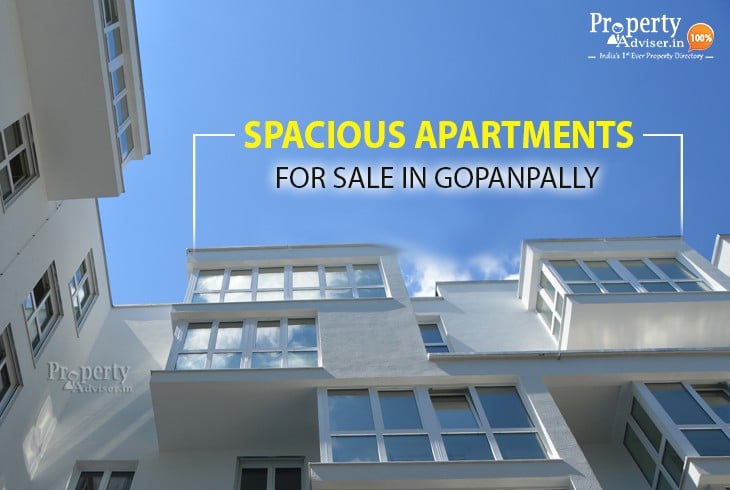 1068 - MIRO
03:00 PM
09
May
2019
Gopanpally area is emerging as the most preferred area to buy a flat. The area is located in the West Zone of Hyderabad. The area is developed infrastructure, excellent neighbourhood and commuting facilities. Also, many reputed builders are launching new residential apartments for sale in Gopanpally area.
The highlights of Gopanpally area are as follows:
Plenty of Spacious Apartments for Sale in Gopanpally
Gopanpally area has more than 1215 residential apartment units for sale.
The apartment projects are constructed with modern amenities such as clubhouse, landscaping, swimming pool, indoor games, clubhouse, gym centre and many recreational facilities for the luxurious stay of its residents.
The apartments in Gopanpally area are from 1080 to 2036 square feet sizes.
Price Trends of Apartments in Gopanpally Area
Apartments in Gopanpally area have a spacious place and friendly surroundings.
There are 2BHK and 3BHK flats for sale in Gopanpally area with convenient facilities.
The price of a 2BHK flat in Gopanpally is below Rs 80 lakhs.
The cost of a 3BHK flat in Gopanpally starts from Rs 61 lakhs.
Latest Infrastructure Developments in Gopanpally
BT road extension works are in progress at Gopanpally Tanda, Hyderabad.
This infrastructural development offers the residents to have a risk-free drive and reach their destination fast and safe.
New Wipro Campus construction work started at Gopanpally Tanda.
The upcoming new IT office is expected to boost the real estate sector in Gopanpally.
If you acquire a flat in Gopanpally area, you can save the travel time that has to spend to reach your home.
Gopanpally is a clam and decent locality.
Top Trending Apartments in Gopanpally
Many reputed real estate builders are constructing quality with comfortable facilities.
The top gated community apartments for sale in Gopanpally include
P R GREENVIEW
HONER VIVANTIS
MIRO
Primark Cygnus
Aditya Elegance.
All the flats in Gopanpally area are well ventilated and vastu based.
Comfortable Commuting and Neighbourhood
The area has prominent educational institutions, hospitals, banks and supermarkets in its vicinity.
The nearby schools, supermarket, hospitals, and banks include Blossoms School, University of Hyderabad, Epistemo Global School, Citizen Hospital, Ratnadeep Super Market, Inorbit Mall, Andhra Bank, and SBI Bank.
Lingampally MMTS is 4.5 km away from the area.
The area is located near famous IT hubs such as Hitec City Cyber Towers, Gachibowli DLF Building, and Wipro Circle.
The areas located near Gopanpally include Tellapur, Nallagandla, Nanakramguda, Osman Nagar, Gachibowli, and Lingampally.
However, with developing infrastructure, comfortable facilities and affordable property rates, Gopanpally area is preferred as one of the best residential areas to invest. Buying a flat in this area makes you lead a comfortable and happy life.
Are you interested in buying a flat in Gopanpally? We furnish you accurate details of the newly constructed apartments in Gopanpally area. Choose the best that suit your requirements and lifestyle.
By: Shailaja K
Quick Links:-
---