If your house is small, you will think that you do not have too many options to give it a spectacular setting. With using multifunctional furniture, doors, and the right color in space, you can transform your small space into a spectacular and bright one.
Look at the below few space-saving ideas and gain a sense of spaciousness in your house.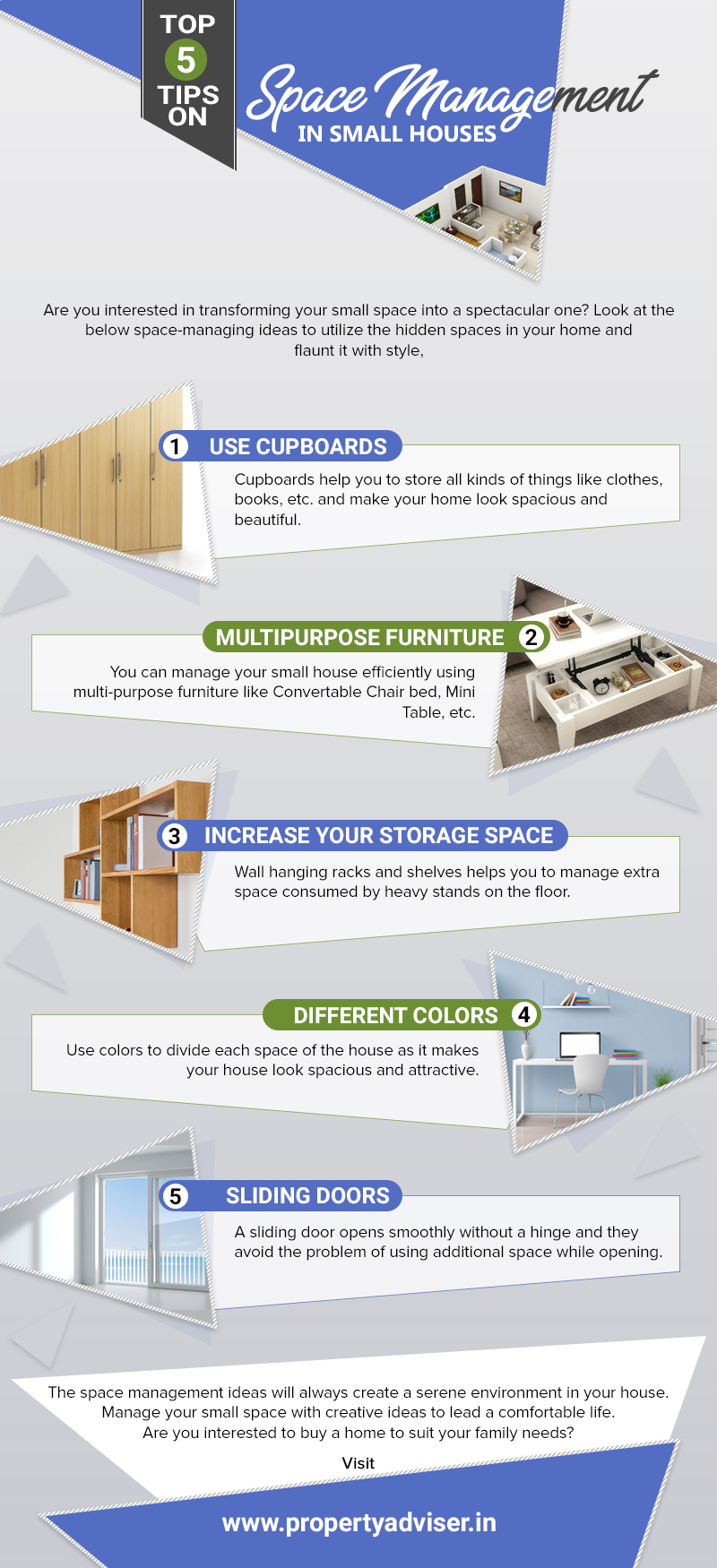 Use Cupboards
This is an excellent solution to small houses. Being small, you probably lack storage areas, so wardrobes or cupboards are always a good option to manage small space at home. In this piece of furniture, you can store all kinds of things like clothes, books, pillows, kitchen container, and daily usage items in an organized way. It helps your home to look clean and attractive.
Multipurpose Furniture
You must decorate your house with a minimum amount of elements so that it looks attractive. If your kitchen or living area has a small space, you can use multipurpose or modular furniture. They are the best option for small spaces since their storage and distribution capacity makes them practical and very functional. Many real estate builders are constructing spacious apartments for sale in Hyderabad with modern facilities where the residents can lead a comfortable lifestyle.
Increase Your Storage Space
You can place things on the walls and make your house look spacious. Instead of using big racks and stand for setting things you can fix them on walls to get extra space. For example: Fix your TV on the wall instead of arranging them in cabinets or on heavy stands. Store your things in a smart way and make your home have a more storage space. It brings a more spacious and organized look to your home.
Different Colors
Use colors to divide the space of the house, in addition, the attractive colors match visually with the environment making them perfect for decoration. As they allow many combinations in terms of styles and shades. It fills the environment with texture without the need to place too many ornaments. Gain space in the house with using attractive colors inside the house.
Sliding Doors
Sliding doors are fantastic elements for setting the spaces, especially for small houses. They open smoothly, and the best thing is they will not occupy much space to open and close. You can keep the materials of your choice. You can also choose glass doors can make the designs more attractive. Use them to manage space at your home easily.
The space management ideas will always create a serene environment in your house. Manage your small space with creative ideas to lead a comfortable life. Are you interested to buy a home to suit your family needs? Visit www.propertyadviser.in and select the best home from 1000+ properties for sale in Hyderabad. Here you can filter properties based on your requirements such as property type (1BHK, 2BHK, 3BHK...), price range, facing, community, and location. Visit us and find your dream home smartly and lead a happy lifestyle.
By: Shailaja K