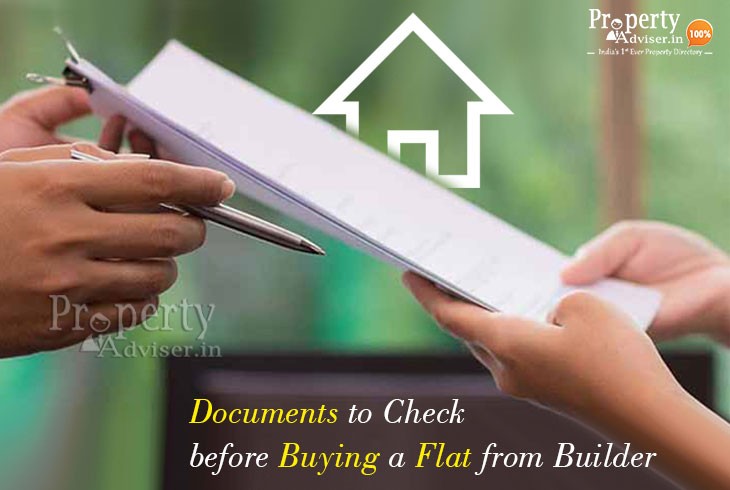 09:34 AM
02
Mar
2019
In the acquisition of any property, a series of preliminary checks must be made to avoid the appearance of contingencies that may cause future problems. To buy your dream home, you must know about the documents to be checked before purchasing a property.
Are you about to buy a house?
Look at the below information of legal documents that you should check when buying a flat from a builder.
Home Ownership Title
The title deed is the legal way of saying you right to own something. In real estate, title deed refers to ownership of the property. You have the rights to use the particular property. The ownership title is one of the most important documents to verify before buying a home that helps in designates the actual owner.
Commencement Certificate
If you want to buy any ongoing construction property from a builder than the commencement certificate is required. This document helps you to check that the construction of the flat has started only after getting approval from the local authorities.
Building Approvals
The document of building approval plan states that a residential building in which you are planning to purchase a flat has no issues and is approved by the local authorities.
No Objection Certificate
The certificate of No Objection (NOC) states that there are no such discrepancies in the present plan and it can be duly executed. This document helps you as evidence in showing that the building has no objections related to the construction of it.
Encumbrance Certificate
This document helps in ensuring that the property is free from any dispute. You can also know that there are no loans against the property which you decided to buy.
Occupancy and Possession Certificate
Certificate of Occupancy is one of the documents which is issued at the end of the construction by a local government agency. It indicates that the building is in a suitable condition for occupancy. This ensures that the building would suit for occupation purpose and can be owned by people.
Purchase Agreement
This agreement contains all major details of the building construction such as the project specification, payment terms, completion deadlines and type & amount of penalty. It also includes a clause to transfer the common areas to the society. This ensures the flat remains with the original owners and that the developer cannot engage in further construction on this particular place.
These are the basic documents without which it is not convenient to take another step in the purchase of a home. In this way, you will have information about the right builder of the property. Since many aspects must be taken into account to ensure that everything goes well, it is advisable to go to specialised professionals who accompany you and advise you during the buying and selling process.
Discover your dream home from more than 700+ apartments for sale in Hyderabad at Property Adviser. Select the best flat that your needs to lead a happy lifestyle.
By: Shailaja K
---