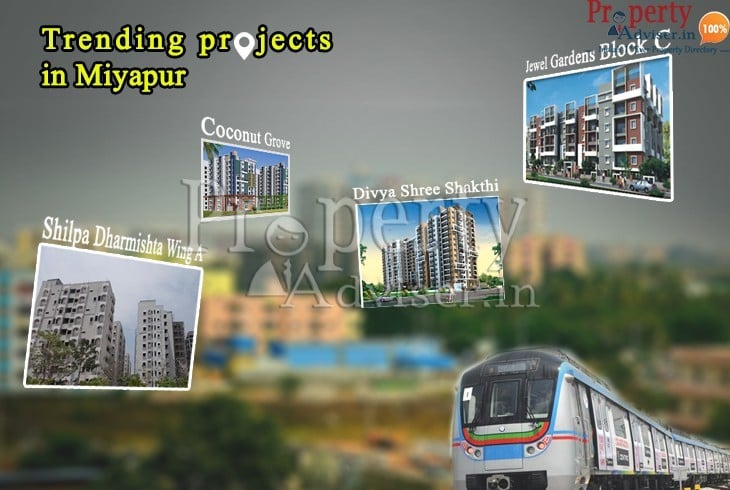 09:30 AM
12
Apr
2018
Miyapur has good connectivity to software offices and other major landmarks in the city. The metro rail operations from Miyapur to L.B. Nagar at corridor 1 have given hope for real estate builders. This area has a good number of industries and pharmaceutical companies.
Many residential projects at Miyapur have been earmarked for construction, and some projects are ready-to-move. Apartments with good amenities are available at an affordable price. Traffic congestion and crowd has reduced to a large extent at Miyapur due to the wider roads.
The locality is close to Information Technology (IT) hubs and industrial hubs. It has increased the demand for residential properties among the working professionals.
Major landmarks such as educational institutions, hospitals, banks, offices, and shopping malls are in the vicinity of this area. So, the buyer will reap maximum benefit by buying a home at Miyapur. There are 40 residential projects at Miyapur with 1781 apartment units available for sale. Buyers have the best opportunity to select apartments with different sizes of 1BHK, 2BHK, 3BHK, 4BHK, and 5BHK+.
The trending gated community projects at Miyapur include Coconut Grove, Silpa RV Dharmista Wing A, Sri Vathsa Homes, Jewel Gardens Block C and Divya Sree Shakthi. Currently, the price of an apartment in Miyapur ranges between Rs. 35.4 lakhs to Rs. 1.31 crores (Cost per sq. ft range from Rs. 3000 to Rs. 5000).
The buyer who wants to buy the best home in Hyderabad would find Miyapur as a suitable place due to the availability of houses at an affordable price and the connectivity to all areas in the city through Metro Rail and TSRTC (state-run bus service).
Investing in the residential projects at Miyapur will ensure high returns in the long run. Visit www.propertyadviser.in, a real estate property directory, to know detailed information about ready-to-move and under-construction residential properties at Miyapur.
By: Shailaja K
---