When it comes to buying an apartment for yourself, do you care to look at the apartment amenities checklist at least for once?
Well, buying an apartment without checking the apartment amenities list can turn out to be a big blunder later and you might be pushed to the point of checking other deals and apartments nearby on the internet pretty soon after you moved in.
If you don't wish to land in such a situation, then read this out to find what are the basics and must-have amenities in apartments that you must be getting to lead a reasonable life at that Place.
1. Proper sanitation and water inflow
Proper and required water inflow and sanitation is the quintessential and the most basic facility that you really can't do without. If there is irregular water flow or water is extremely impure and unclean and sanitation is also restricted, then you should either insist upon having one or simply ditch the idea of living there to avoid unnecessary mess and unwanted discomforts later.
2. Power backup
Inadequate power supply and poor electricity glitches are not really the thing of the present in India. It's pretty common and considering the current pandemic scenario when a majority of people are confined to their homes for official work as well. Proper and uninterrupted power supply actually becomes inevitably essential. Double-check your apartment amenities checklist to ensure good power backup provisions.
3. Security system
We can't be at our homes 24×7 to look after our valuable belongings such as vehicles, jewellery, cash etc. There has to be some credibility of the housing society to provide reasonable security to its residents. CCTV, Fire extinguishers, elevators, round the clock guards are the facilities that must be there to ensure complete safety of your life and belongings at any Place.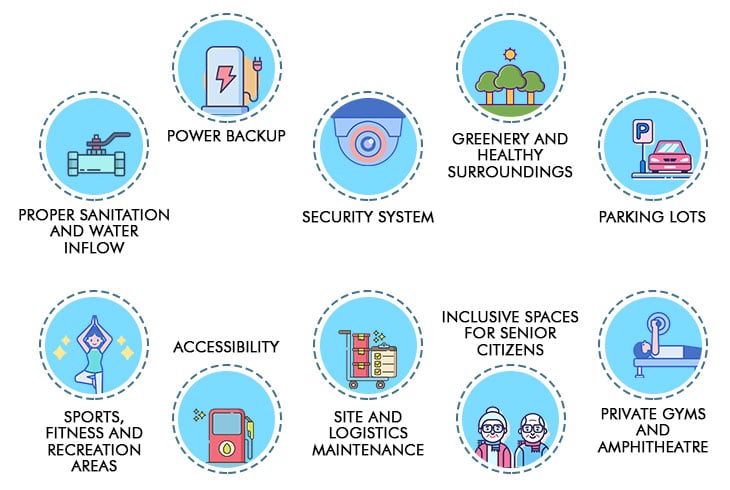 4. Greenery and healthy surroundings
Well, it might be underrated but in today's chaotic times, this is actually what one needs the most. The peace of mind! Living in a place full of noise, air and water pollution or in unclean surroundings may have an adverse impact to your mental health and peace. It's important to choose a place which ensures if not lush then minimal greenery and peaceful environment away from bustling roads and traffic.
5. Parking lots
Parking is one of the biggest issues these days. That's why make sure that the place you're moving into, it provides adequate parking space for your cars and other vehicles. Otherwise, you might have to run around in a space hunt just for this.
6. Sports, fitness and recreation areas
After that grueling hectic day, one really needs a space to just sit back, chill, relax or indulge in the activities that they like such as playing outdoors, cycling, swimming, yoga, jog etc. It is important that we start realizing the value of these activities and how beneficial they're for our holistic health in the long run. It's important that luxury apartments amenities include this.
7. Accessibility
Accessibility is an important factor to be considered these days. Make sure that there's provisions for markets, departmental stores, hospitals, petrol stations etc. in your society vicinity so that you don't have to rush last minute for little yet inevitable stuff like this.
8. Site and logistics maintenance
There has to be proper arrangement for on-site and logistics maintenance. Services such as plumbing, carpentry, domestic help etc. should be a call away. Without them especially in the initial days of shifting to a new place, it might get quite taxing to return to normalcy otherwise.
9. Inclusive spaces for senior citizens
Pick the places where there are proper arrangements for senior citizens if you have senior citizens accompanying you. Say, ramps, benches, easy access to medical stores and medicines and other key healthcare facilities.
10. Private gyms and Amphitheatre
So if you're moving into what they call it a luxury apartment or housing society then this is something you must expect or ask for. Gyms, party halls and Amphitheatre are nothing less than a necessity to meet the needs of one's pretty common lifestyle being a city dweller.
Hence, these aforementioned are the amenities in apartments that you must be ensured to find on the top of any society's catalogue. Since more than just amenities to be ticked in a box, these are necessities that ensure reasonable standards of living that are truly deserved for every person no matter where they live.