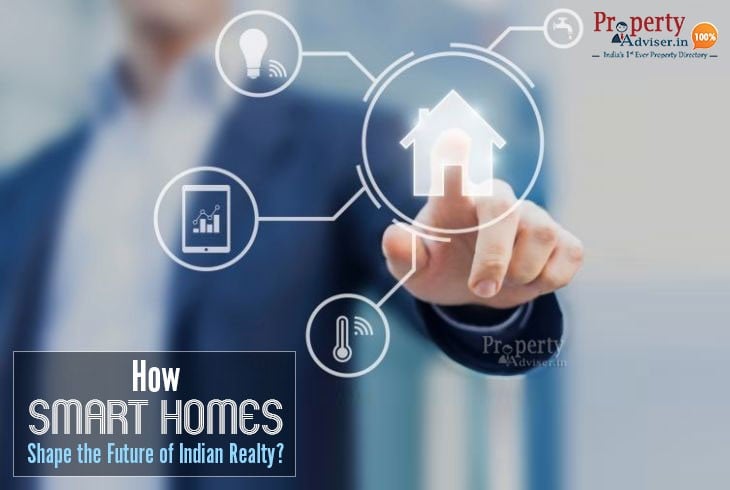 09:34 AM
07
Sep
2019
Nowadays, everyone has become accustomed to high-speed transport, smartphones, and increasingly, more familiar with the concept of smart cities. Recently smart homes are advancing technologically by enormous steps. The smart houses are planned in an innovative way where the people residing in such homes can lead a comfortable lifestyle with its new concepts such as the Internet of things or home automation. Many reputed builders are constructing smart homes to suit the resident's lifestyle.
What is a Smart Home?
The concept of the smart home is based on having a set of systems that automate the facilities with the help of technology, giving never-ending comfort to the residents. A smart home is equipped with technology to remotely control and automate household systems like lighting, doors, thermostats, entertainment systems, security alarms, surveillance cameras, and other connected appliances. The smart homes help you to save energy and make you lead a more comfortable life. You can find a smart home in Hyderabad with quality facilities to lead a comfortable lifestyle.
Intelligent Construction and Automated Works
In a smart home, appliances, air conditioning, ventilation, lighting systems, security systems can be controlled remotely from any place with your computer or mobile phone. These integrated home automation systems control devices like humidity sensors, air quality probes, etc. They can turn your home into a digital home and contribute to the conservation of the limited resources by controlling the consumption of air conditioning systems, lighting, and water.
Currently, many of the home controllers have built-in monitoring systems through which they calculate and record the use of all connected devices, which provides the homeowner with greater knowledge and information to make changes based on the needs of every moment. This technology is attracting many buyers for its comfort and quality benefits compared to normal constructions.
Benefits of a Smart Home
The smart home takes advantage of automation technology and modern construction techniques to give owners a new level of control. Smart homes offer many advantages as shown in the below points.
Comfort
Comfort is one of the preferred reasons to buy smart homes. These houses provide remote access to all the systems and equipment that are part of the facilities, including heating, cooling, ventilation, intercoms, music, and multimedia devices throughout the house. You can carry out all actions from the device automatically.
Security
Smart homes include advanced security systems with cameras or private security. Smart houses can also use access cards or fingerprint identification instead of conventional locks, which makes it difficult for anyone outside the home to enter. You can know what is happening in your home if you are not at your home smartly.
Greater Accessibility
For elderly or disabled people, a smart home can have accessibility technologies. Voice command systems can control lights, close doors, operate a telephone, etc. Home automation allows a person to establish a schedule for automatic tasks, such as watering the lawn, eliminating the need to perform these tasks that require a lot of labor regularly.
Energy Efficiency
Smart homes offer greater energy efficiency. The lighting systems of a room can be controlled automatically for switching on and off using presence detectors. The air conditioning systems can be directed or programmed automatically or remotely depending on the needs and comfort of the users of the home.
The main well-defined and priority benefits of a smart home are energy savings, security against theft, and control of all electrical components that are incorporated into the home. This technology can help people to facilitate their daily needs. Are you interested in buying a smart home in Hyderabad? Visit www.propertyadviser.in to find the best house that suits your requirements and lead a happy lifestyle.
By: Shailaja K
---