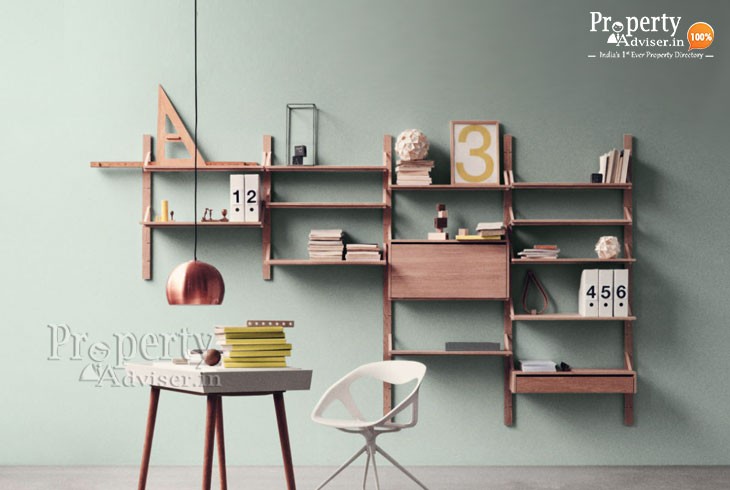 09:32 AM
12
Jan
2019
Are you looking for innovative storage solutions?
want to make the best use of the area available in your house without worrying about clutter.
Read on to find out about storage solutions for your home that are modern, innovative and efficient.
Centre Table - A centre table can double up as a coffee table. You can have tiered centre tables to store magazines, books, and other stationery in your living room. If it has a lid/cover, you can even get your living room organised by storing away things you don't need inside it.
Sofa - A sofa is a must in every living or drawing room. How can you utilise the space behind the couch? Whether it is in the centre of the room or placed next to the wall, adding a shelf that is aligned along the couch or behind it can create space for your books. You can even decorate the shelf with your favourite accent pieces.
Bedroom - Storage ideas for your bedroom such as headboard, footboard and under-bed storage help you get things organised and takes away the need for new wardrobes. You can also store large items such as suitcases, quilts, extra pillows, bedsheets, and bedroll under the bed.
Sofa-cum beds in guest rooms and bunk beds in children rooms save space in the bedrooms. You don't need additional double-beds in the guest room or children room.
Vertical storage and wall-mounted shelves for books, crockery, and other decorative items save space, look modern, and add visual texture to the room. It clears up floor-space and makes your room look bigger and more spacious.
Modular kitchens with built-in appliances such as refrigerators, ovens, and dishwashers help you save space, time and gives your kitchen a sleek and modern look.
Multi-functional wardrobes are used as display units with storage to break the monotony of the conventional storage. There are different types of units available in this wardrobe to store various things such as clothes, books, crockery, photos, and other decorative items. You can now keep everything you love in one place.
The advantages of using these storage solutions are as follows
For an organised and clutter-free home - Adding innovative storage to your home helps you organise things in different rooms so that you can find them quickly and easily.
Your home looks good - Do you want to live in a beautiful house? A storage solution that is creative and innovative help achieve your objective.
Utilise space effectively - More and more homes are shrinking in area and any idea to utilise space efficiently is most welcome.
Show off your house to your friends and relatives. You can inspire them too.
You are more relaxed and less-stressed. Adding intelligent storage creates a stress-free environment.
Adopt these storage solutions to declutter and organise your home.
Visit us at www.propertyadviser.in to know more about intelligent and innovative storage solutions for your home. Property Adviser is a property directory. We list ready to occupy and under-construction properties in Hyderabad. Find your dream home at www.propertyadviser.in now.
By: Lotus Tech
---