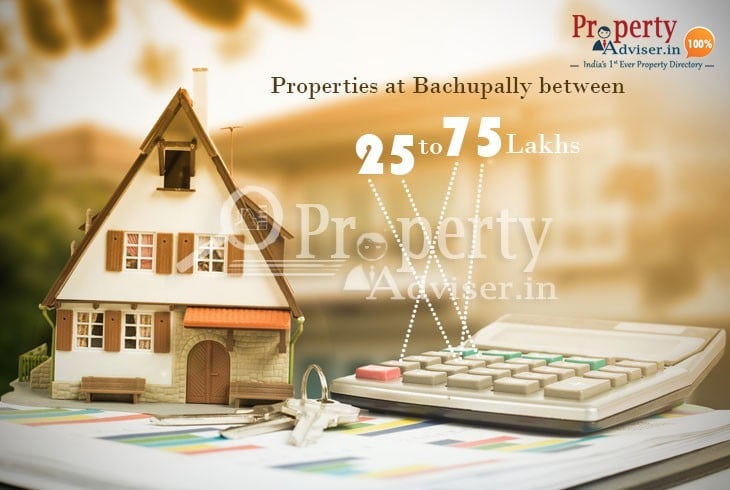 09:33 AM
05
Sep
2018
Are you planning to buy a home to match the basic needs of living with a limited budget?
Here Property Adviser is furnishing detailed information about the apartments for sale in Bachupally ranging from Rs.25 lakhs to Rs.75 lakhs with comfortable facilities. Let's find out more about the trending apartments for sale in Bachupally designed to offer a healthy lifestyle to the buyers.
The project specifications that match your needs are given below:
Hill County:
Hill County apartment project is located in Bachupally. The gated community project in Bachupally built in the total project area of 85 acres of land area. The project consists of a well-equipped gymnasium, yoga & meditation hall, open play space area, cricket ground, free Wi-Fi and several other facilities. All flats in the project are Vastu compliant. There is a rise in demand for houses that are Vastu compliant.
Lahari Twins B:
Lahari Twins B apartment is located beside Vikas Concept School in Bachupally. The apartment is close to Miyapur metro station for easy commute to all parts of the city. The spacious, Lahari Twins B apartment in Bachupally is built with modern amenities like swimming pool, gymnasium, multipurpose hall, power standby generator, etc. for the comfortable stay of its residents.
Golden Oriole Block - B:
A premium apartment project of Vishnu Krupa Developers. Golden Oriole Block - B apartment in Bachupally ensures an ideal lifestyle for all its residents. The spacious clubhouse and availability of playgrounds provide a buzzing social life to the residents. Buying a flat in Golden Oriole Block - B apartment will be an ideal choice to lead a healthy life in the pollution-free environment.
Praneeth Pranav Zenith – SIERRA:
Praneeth Pranav Zenith - SIERRA apartment in Bachupally is built with 2BHK and 3BHK flats facing east and west. Supermarket, bank, school, are at a distance of 1 km from the apartment. The national highway and metro station are 6 km away. The apartment has comfortable facilities offering an unmatched lifestyle to the buyers.
Intellipark:
Intellipark is a luxurious apartment project, consists of 2BHK and 3 BHK flats for sale in Bachupally. The project offers several amenities including a cafeteria, table tennis and pool room, yoga/aerobic centre, mini theatre, also many sports facilities, including badminton, squash, tennis and basketball that promotes an active lifestyle.
Every residential project is an affordable choice for the buyers to invest in.
Many working professionals prefer to buy an apartment in Bachupally due to affordable rates and excellent infrastructure. Therefore, the demand for apartments is increasing in this area. So, if you are planning to invest in the real estate sector then purchasing an apartment in Bachupally is an excellent option for you for long-term investment.
Register and log in to www.propertyadviser.in, a real estate directory portal, to know detailed information about ready-to-move and under-construction residential properties for sale in Bachupally.
By: Shailaja K
---