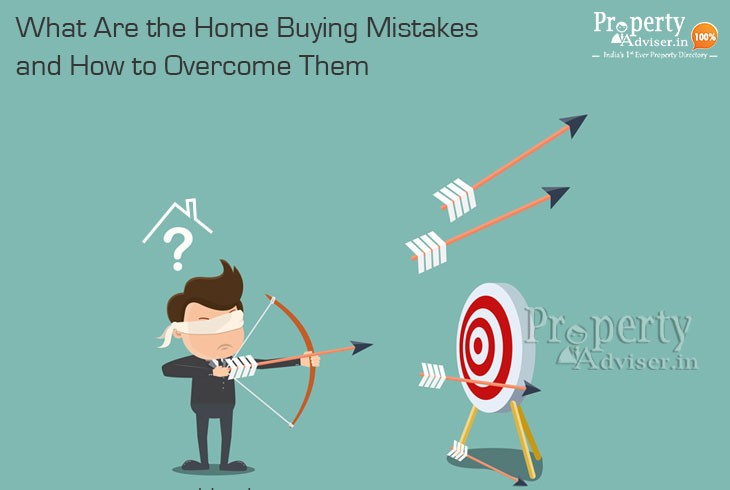 09:30 AM
06
Apr
2019
Although people may disagree on many things, everyone agrees that there is no place like home. Be it a small apartment, or a humungous villa. The house has a significant place in one's life. A person without a home cannot even imagine having a family. As it holds lifetime memories, buying a home requires a lot of patience and experts advise.
So, let's see some of the most common home buying mistakes that investors commit and a few tips to overcome them,
Budget
The first and foremost thing to even consider before buying a home is your budget limit. Everyone dream of having a big house for themselves, but don't overdo on things which you will regret later. Choose a house which you can afford and that meets your requirements. Set a goal for yourself, and look for homes in your budget limit.
If not, you could end up wasting a lot of time visiting houses which you can't afford. Always aim low, and plan for homes which fits your price-level so that you can live a stress-free life. Plan your budget priority to get an estimate on how much you can invest, how much you can stretch, and how much is your unaffordable limit.
Mortgage
Maximum of home buyers, take a loan to buy a house. Nowadays, many banks are offering zero down payment. Although it seems like a beautiful thing, it has a lot of drawbacks to itself. With a less down payment, you will get a lot of mortgages which you need to pay monthly.
Should you wait, saving money for a long time? No, as the mortgage and house prices are increasing rapidly, it's a bad idea to remain for a long. So, the best thing is to pay an affordable amount of down-payment, which won't be a burden for you in future while paying your monthly house payments.
Desperate
Home is something that stays with you for a lifetime, gathering your precious memories. So, it's better to be patient while choosing it. It easy to get desperate in a situation when you have been looking for a long time but didn't find the house of your dreams.
However, if you make any hasty decision, you will regret it for a lifetime although it might take a little while, set for realistic goals and look from a lot of options to find your ideal home. Want to buy a house? But, confused about how to find your perfect home? Don't worry! For the past few years, our propertyadviser team had helped a lot of home buyers to choose their ideal home.
Overlooking Flaws
Before committing to buying a home, don't forget to do a final walk-through of the property to ensure it doesn't have any extreme damages. Never ignore the massive flaws with the house, as it will cost you later in terms of money, time and efforts.
If there are any significant setbacks like underground pipes, septic tanks, roof leakages, wiring issues, etc. negotiate the price including the fixing cost as some of the repairs of the house may cost you a lot. And some might even be irreparable and can do further damage if not treated at the right time.
Location
Always look for the location that suits your entire family needs. As the location of the house defines certain things like overall quality of life, education choices, commute times, social opportunities, etc. An excellent comfortable neighbourhood will give you a peaceful stay.
Though you find the perfect house as per your interest, you should never ignore its location. Many compromises to adjust in the area as for the main reason like price, often tends to regret. At a particular time, if you stay at a lot of distance from your basic and professional needs, commute becomes a burden, wasting your valuable time.
Interminability
It's a tough decision to purchase a home, but don't take a lot of time. Good properties don't stay long, as one or the other will make an offer before you do. It really hard to find an ideal property that suits all your necessities, and to lose it will definitely leave you heartbroken.
While dealing with properties, time is money. If you find your ideal home, don't make it wait and get any pre-approvals like bank loans ready as soon as possible. As there is heavy competition to buy properties, if possible it's even better to get pre-approvals before searching for properties so that you can make an offer at the right time.
In Brief
In this article, we have discussed some of the common errors and tips to overcome them. Everyone wants to live in their own home. But, due to a lot of excitement, even the most prepared ones will also commit mistakes. As an experienced real estate data directory creators, the propertyadviser team can surely assist you to find the best home in Hyderabad.
By Govi
---