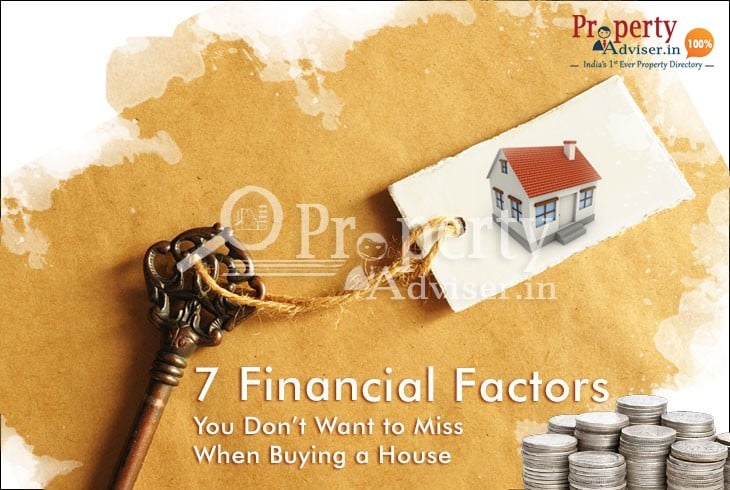 09:40 AM
18
May
2018
Have you felt that buying a house is a big decision both financially and emotionally? Have you come to that absolute moment when you wanted to say yes to buying a house, but still held back because some hesitation holds you back? Have you felt that you need someone by your side who would explain all the factors that you need to know? Property Adviser has taken upon that job. Read on to get an expansive view of what it takes to make a good decision when buying a house.
This is a two-blog series where we cover an exhaustive list of factors that you need to consider when purchasing a house.
This blog, the first of the two, covers the financial factors and the growth prospects that influence your purchase decision.
Cost
The first thing you decide is your budget - fixed or flexible within a range. You will proceed to look for other things only when a house is within your budget. Your budget depends on the financing options available to you as well.
Your budget should be more than the house price. Here is why:
Often houses are sold as bare shells. So, your budget should accommodate the cost of customisation (of internal structure, fittings, tiles, door makes, interiors, furnishings, and so on). Based on the amount of customisation you need, about 2/3rds of your budget will be available to you to pay for the house.
Location
The location is as important as the cost. You will choose a house that is located near schools, offices, hospitals, shopping areas, bus stops, metro station, and so on.
Sometimes, having a support system in the neighbourhood plays a significant role in identifying the location of your house. For example, if you are a working parent of a toddler, you might want to stay near your parents or in-laws.
Size
The size of a house is dependent on the number of people living together in your family. A nuclear family prefers apartments or even villas while working couples prefer gated communities.
If you live in a joint family, an independent house, villa, or a big apartment is required according to your preference and lifestyle.
Also, you must know the difference between carpet area, built-up area and the super built-up area of the house you are planning to buy.
Carpet area means the room inside the house such as living room, bedrooms, dining room, dressing room, kitchen, bathrooms, stores and balconies, and any other room inside the house. It does not include external walls and common areas of the building.
Built-up area is the total area covered by the house. It includes carpet area and external walls but does not include common areas. It is also called plinth area.
The super built-up area is the built-up area + common areas apportioned to the house/apartment in a complex.
Future Prospects
While buying a house, you must consider buying a house as an investment too. The value of the house/apartment appreciates due to market factors and amenities and infrastructure development around the building.
If you are expecting an absolute Return on Investment (ROI) on your property, you must choose accordingly.
Financing Options
Most of the residential projects are funded by banks. The banks disburse home loans quickly and with very minimal paperwork for eligible customers.
The government encourages the buyers to take bank loan by giving tax deductions. Therefore, the real estate sector has seen a spike in bank-funded projects.
You can choose from a range of financing options to finance the purchase. Flexible repayment terms based on your ability to repay the loan is one such option. For example, banks allow a tenure of 15 to 20 years to repay the loan. While taking a loan, choose a bank that is known for its long-term service and is reliable.
Some projects are pre-approved by certain banks for sanctioning loans. Therefore, when visiting a property, check with the builder weather the project is pre-approved for loans by any bank. If the property is approved by good private banks or public-sector banks, your financing becomes easy. The bonus is that the banks verify the property's legal documents for pre-approval. Therefore, you can safely assume that the property is in good legal standing.
Future Upgrade
The growing needs of your family may need you to build an extra room or extending the house by building another floor, and so on. Find out if an extension is possible in the future.
For properties located in a gated community, you should ask the builder before you take the buy decision. Some gated communities won't let you build while others will have a long list of conditions to fulfil before you extend the house.
Future Prospects of the Area
You must assess the prospects of the area such as value appreciation of the house. The appreciation is largely influenced by amenities such as roads, hospitals, bus stops, schools, metro station, and shopping malls.
What Else
Are there more things to consider before buying a house? Yes. There are. The second article in this series covers individual and family preferences that are also equally important before you shortlist a house.
Considering the above essential factors Mr. Property Adviser gives a small dose of advice with some tips to buy a house in an easy way.
Before buying, it is important to analyze our financial situation. The most important thing is to determine our income and the capital that we have available to buy a house. If you search to buy a home for 50 lakhs, you can get comfortable services. Property Adviser eases your search with its Property Filters page with budget range selection of house. Find several projects that provide all the facilities at a single click.
Many New Projects are constructed with comfortable facilities and Amenities to suit the elderly couples and young couples with kids. Now a day's many builders also offering zero percent EMI on the purchase of newly constructed projects.
Look for houses for Future Upgrade in Gated Communities. So experience the first ever real estate property directory portal, www.propertyadviser.in and become the happiest owner of your dream home.
---