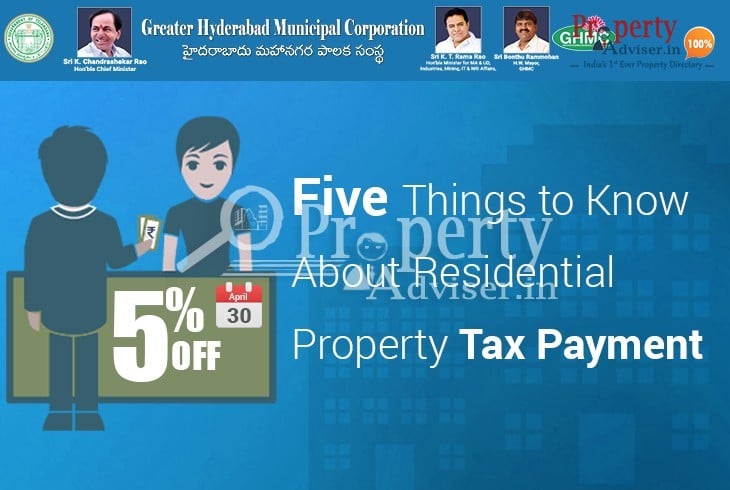 09:32 AM
26
Apr
2018
The taxes collected by GHMC are used for repairing roads, construction of footpaths, public toilets, and maintenance of public areas, parks, playground, and so on.
Property tax is one of the many taxes GHMC receives from the property owner. It is a tax levied on houses and apartments. The owner pays the tax notwithstanding whether it is self-occupied or rented out. It is mandatory to pay property tax every year.
Five Things to Know About Residential Property Tax Payment:
Who has to pay property tax?
Any person who owns a residential property has to pay property tax. GHMC also charges property tax on property used for commercial purposes.
How do you calculate residential property tax?
GHMC calculates property tax based on the area of the property, location, type of construction, and so on. GHMC website has a calculator that displays the approximate amount of property tax due if you enter details of the property.
To calculate the residential property tax:
Calculate the plinth area of your property. The plinth area is the total built-up area which includes balconies and garage space.
If your property is self-occupied, calculate the monthly rent per sq. ft. of similar properties in your area.
If your property is rented out, calculate the monthly rent per sq. ft as per your rental agreement.
Use the below formula to calculate property tax. Property tax = plinth area * monthly rent per sq. ft. * % of tax (as per GHMC) - 10% depreciation + 8% library cess.
How do you pay property tax?
GHMC collects property tax payments online in any of the following ways:
Online tax payment through net banking.
72 Mee-Seva centres in GHMC limits.
Citizen Service Centres in all 19 circles of GHMC.
GHMC Head Office.
How do you pay property tax for new residential properties?
To assess a new property, you can either submit the details online or offline.
In case of offline submission, you must submit your application to the Deputy Commissioner. The list of documents you must submit are as follows:
Registered Sale Deed/ Gift Deed/ Partition Deed.
Link documents attested by gazetted officer.
Copy of building sanction plan.
Occupancy Certificate
In case of online submission, please refer to a video that explains how to submit the self-assessment online here.
After receiving the request (online or offline), a tax inspector inspects the property, verifies the documents, and levies the tax. Then, the applicant gets a unique Property Tax Identification Number (PTIN) with a new house number.
Early Bird Offer by GHMC
GHMC is giving a 5% discount on property tax if you pay by 30 April 2018.
Log in to www.propertyadviser.in to know more about property tax.
---