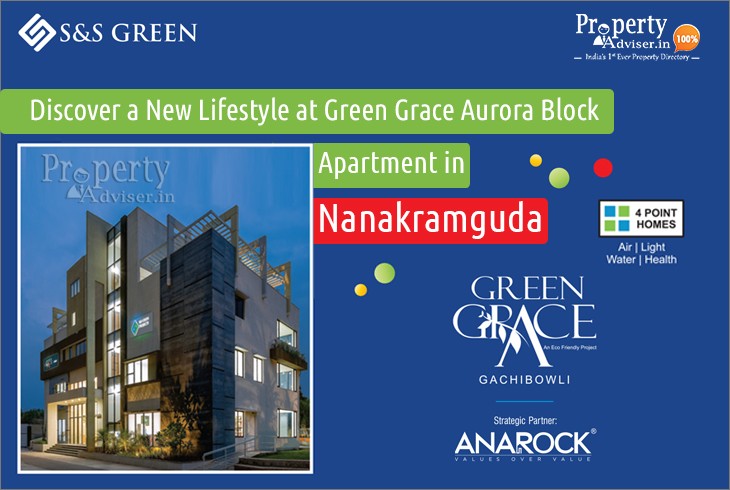 09:44 AM
24
Nov
2018
With the increase in demand for houses that are sustainable, some projects incorporate aspects of their design that make it a green building.
A green building conserves energy, saves water, uses natural lighting, and renewable resources.
When every person on earth takes up the responsibility of saving water and energy in his/her day-to-day life, we conserve non-renewable resources and pass on the benefits to the future generations.
Do you want to buy a house that is spacious, airy, uses natural light and is well-ventilated?
If you want to buy an eco-friendly home, then the four-point homes are a perfect choice.
What are four-point homes?
SS Green Grace's four-point homes use air, light, water and space to create a living area that is environment-friendly and sustainable.
Green Grace Aurora Block is one of the first Pre-certified Platinum Green Building - Source: Indian Green Building Council (IGBC) in India.
With more than two decades of experience in building homes, constructing an eco-friendly apartment motivated them to make SS Green Grace.
The project is spread over 5.38 acres of land in Gachibowli near Outer Ring Road (ORR). The apartment complex incorporates air, light, water, and space into its design. Therefore, it fulfils all the requirements of a green building as specified by the IGBC.
Some of the unique features available in SS Green Grace are as follows:
It occupies 29% of the area; the remaining 71% is an open area. The open area is allocated for gardens, play areas, and seating areas.
The houses are well-ventilated with large balconies to let-in sunlight and air. The terrace has reflective tiles to reduce heat.
SS Green Grace has a solar water heater to supply hot water to every apartment.
The waste-water from the kitchen and bathroom is recycled and reused in bathroom flush.
The rainwater harvesting pit helps to restore the groundwater levels and save water.
The excess rainwater is collected and reused to water plants in the building.
They use low VOC paints and materials approved by the IGBC.
The structure is earthquake resistant.
There is reticulated gas supply.
The benefits of a green building are water saving, energy saving, and effective utilization of resources.
They also offer other amenities such as
Air-conditioned clubhouse, guest rooms, gym, fitness centre, yoga hall, party lawn, and so on.
A swimming pool.
An exclusive health club and beauty salon for women.
A grocery store, cafeteria, creche, ATM, physiotherapy centre, centralised laundry, a lobby with a furnished reception.
Joggers track, children's play area, 24 hours security, and 24 hours standby ambulance, generator backup and separate car wash area.
The four-point homes at SS Green Grace have the following features and benefits:
Light
The house is designed to allow adequate sunlight during the day. Therefore, your energy consumption is reduced. You don't have to keep the lights switched on during the day.
There are solar water heaters, RFID technology for parking cars that avoid lighting in the parking lot, and energy efficient LED lights in common areas.
If you buy a house at SS Green Grace, you can reduce your power consumption by 30%.
Air
All the houses are well-ventilated. There is a huge balcony to sit and relax. The use of low VOC paints and large open areas with gardens improve air quality and your health.
The mini-forest inside the building gives you fresh air and promotes a healthy living environment. It reduces pollution and purifies the air.
The residents of SS Green Grace also participate in the planting saplings in the mini forest.
It has a positive impact on children and adults who live here. They also have an efficient solid-waste management system in SS Green Grace.
Water
Their rainwater harvesting is unique as experts designed it. They have created a mechanism where the rainwater is collected in an underground sump. After letting water to percolate, the excess water is reused for plants and is stored in a 2 lakh litre sump. It is supplied through pipes to the residents for use in bathrooms. They also have sewage treatment plants.
The water from the kitchen and bathrooms are treated and reused as greywater for flush tanks.
The water recycling and saving help reduce water consumption by 50%.
Each apartment has a water meter. The names of the residents who use more water and those who use less water are displayed on the notice board to encourage them to reduce the use of water.
The measures to reuse and reduce water consumptions means that you will get water supply throughout the year even when the other people in the city face water shortages.
Green Grace is an IGBC pre-certified green building. It means that SS Green Grace uses low VOC paints and materials specified by IGBC. Therefore, it improves your health. It has many amenities such as jogging track, yoga and meditation hall, swimming pool, and children's play area to encourage an active lifestyle among its residents. There is less pollution as there is a mini forest that purifies the air. The rooms in SS Green Grace are well-ventilated.
Book your dream home at SS Green Grace to live a joyful, healthy and active lifestyle.
Property Adviser is India's first property directory. We provide property information with the latest details of availability, size, price, offers, and discounts. Visit us at www.propertyadviser.in to find out more about four-point homes and how it will help you lead a healthier life.
By: Lotus Tech
---