Hyderabad has undergone massive infrastructural growth over the past six years, starting from an enhanced road network, which includes a series of fly-overs providing vehicle free movement to glistening new bus bays and the construction of new green lung spaces for pedestrians.
Infrastructure Developments in Telangana
An analysis of GHMC's share of expenditure shows that since 2014-15 it was Rs 32,532.87 crore. The budget for works in progress was Rs 16,808.77, while the total of Rs 15,724.11 for various categories was between 2014 and 2015 and August 2020.
The total expenditure by GHMC has been involved in works for the last six years from 2014 and 2020, including housing, lighting, park development, the introduction of welfare schemes and enforcement.
The move by the state government to continually fund GHMC infrastructure projects led to a range of very groundbreaking projects such as the recently opened Durgam Cheruvu Cable Bridge in the context of the Strategic Road Development Project (SRDP).
In addition, 11 main corridors with a length of 166 km were taken up with Rs 24,000 crore, with seven skyways 137 km long. Several important SRDP works have now been done to reduce the congestion of traffic at most busy roads at Kukatpally, LB Nagar, Ayyappa, Society etc.
Steel Bridges finally started in the Indira Park, Owaisi Junction etc. Also, 46 fly-over operations have been carried out under the SRDP, while HRDCL is running works related to 27 missing roads, besides 709 km of roads under seven packages under the CRMP.
State Government Invested Rs 6700 Cr Capex on Hyderabad Infrastructure Developments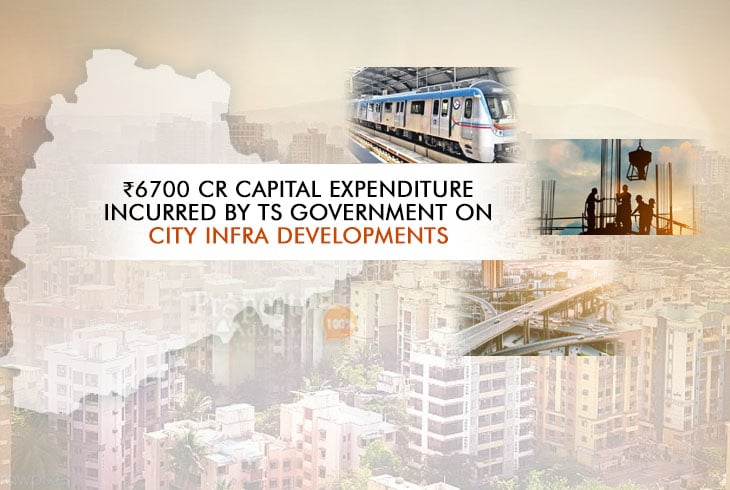 Hyderabad has steadily ranked among the best Indian cities to attract businesses and families in the country in the last few years. The ample allocation of capital for the maintenance of existing projects, the construction of new infrastructure, the provision of uninterrupted and high-quality power and the launch of new initiatives such as TS-iPASS and TS-bPASS for ease of doing business and relatively low living costs compared to other Indian cities enabled Hyderabad to remain a top destination.
State Capital Expenditure
The Greater Hyderabad Municipal Corporation (GHMC) witnessed a major chunk of Rs 32,532.87 crore (48.45 per cent) out of the total capital expenditure after statehood. The Hyderabad Metro Rail (HMR) raised an investment of a quarter of the total capital expenditure at Rs 17,290.31 crore, followed by Rs 9,764.27 crore (14.54 percent) from the HMWSSB (Hyderabad Metropolitan Water Supply and Sewerage Board.
The state government, for example, confirmed the release of Rs 78 crore per month to the GHMC and Rs 70 crore for every month to all other municipalities, bringing the sum to Rs 148 crore per month. The expenditure shows that the state government provides approximately Rs 1,776 crore to ULBs annually
By: Shailaja K