Retirement is to quit from one's occupation or active working life and having more time for oneself. On these golden days, retirees like to be with the family and enjoy with the grandchildren. They need a home with a peaceful environment to enjoy retirement life fully. Nowadays, residential housing demand for elders has increased due to the rise in nuclear families and the younger generation going abroad for jobs.
Keeping this in view many reputed real estate builders are constructing active adult retirement homes in Hyderabad for comfortable stay of elder people. Buying a home after retirement is a very important decision in retiree's life. While making decisions they have to face many challenging queries like mortgage, related expenses and finding a new house that suits their requirements for a comfortable stay.
If you are looking to move to the retirement home of your dreams. Below are the factors that you should consider when buying a home after retirement.
Factors to Consider When Purchasing a House after Retirement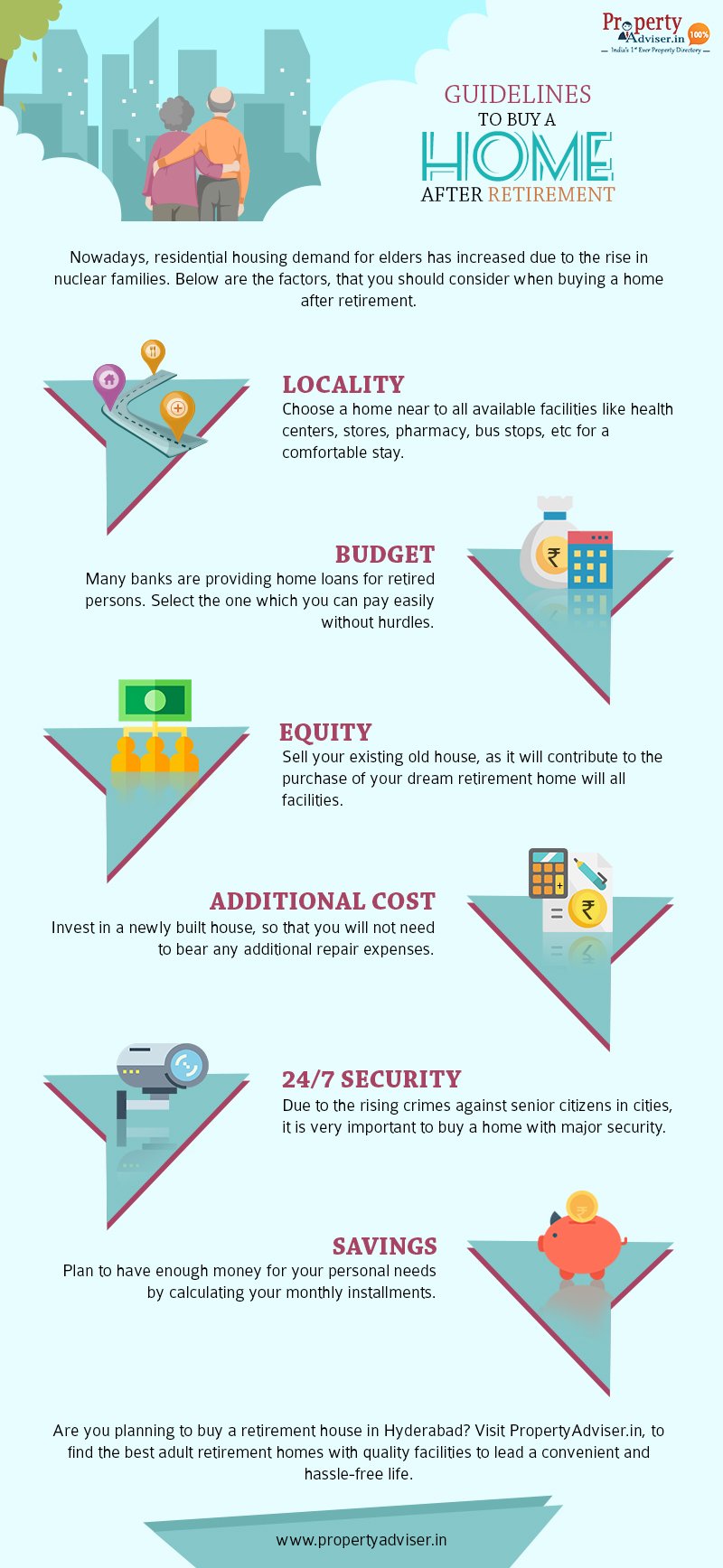 Locality
While buying retirement homes, location is one of the important points to consider. Many of the older people like to live close to families, friends, and neighbors. You have to buy a new retirement home near all available facilities you need like the accessibility of the house, the nearest health center, nearby stores, nearest pharmacy, bus stops, etc for a comfortable stay. Analyze all the comforts of the new house and its surroundings, and then accommodate your priorities.
Budget
Financial condition is the other essential point to consider before buying a retirement home. Many banks are providing home loans for retired persons with some benefits and select the one which you can pay easily. If you have children seek their advice in buying retirement homes. Before buying a retirement home it is better to plan for the finances or mortgage to get rid of hurdles in the future.
Equity
Another factor that facilitates the granting of the home loan is to have a first property home. The most advisable thing is to sell it and increase the percentage of savings to contribute to the purchase of a retirement home. If you decide not to follow this path, you can also opt for renting the current house and get the monthly rent to pay the home loan. This helps you to buy your dream retirement house.
Additional Cost
It is not only important to plan the finance for buying your retirement home but also you have to save money for additional expenses. These expenses include maintenance, repairs, etc. if you planned to buy a used home then you have to face additional problems in paying that expenses. Make a wise decision to buy a newly constructed house with quality facilities and friendly surroundings where you can have a peaceful life.
24/7 Security
While buying a retirement home it is very essential to consider safety and security environment of that place. Due to the rising crimes against senior citizens in cities, it is very important to buy a home with major security. Plenty of retirement homes provide many security options like 24/7 security, CCTV facility, round the clock security, a security gatehouse, and alarm systems.
Savings
In the retirement age, you need more care for comfortable living. Before deciding to buy a home you have to take into account all the requirements you need. You have to evaluate your expected income, mortgage payments, and expenses after retirement. You have to calculate your monthly installments and personal needs that required. Plan to have enough money that makes you lead a comfortable and quality retired life.
However, you have to be very careful while making your decision to spend your golden years peacefully. Are you planning to buy a retirement house in Hyderabad? We guide you to find the best home that suits your requirements. Visit www.propertyadviser.in and find the best adult retirement homes with quality facilities and lead a convenient and hassle-free life.
By: Shailaja K