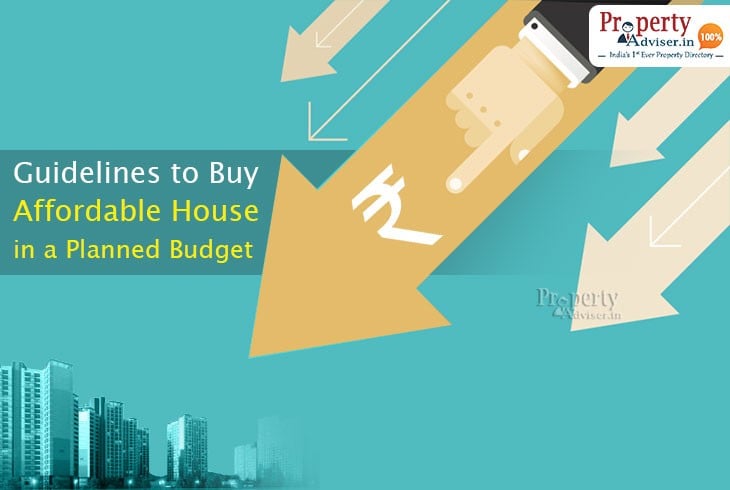 09:30 AM
17
Jul
2019
In Hyderabad real estate market, small real estate firms are launching many new projects and layouts. Now the middle-class people can buy a home in Hyderabad at an affordable price. The price of a flat in Hyderabad starts from Rs 25 lakhs onwards and lands at a price range of Rs 5 lakhs. There are fluctuations in the price of properties depending on the area. With the developing infrastructure, the Government is in the process of launching affordable houses in various areas of Hyderabad with the expectation that the market will rebound in the coming days. Many builders suggest to buy a home in Hyderabad before the price increases.
In the real estate sector, about 80% of properties are constructed near IT hubs. With the expansion of old companies and the advent of new companies, the demand for residential housing is high near IT companies. Multiple office spaces are expected to become available over the next three years. Companies like TCS are renting a new campus here with 4000 employment opportunities. Focusing on this, many housing firms are constructing new projects in Hyderabad near IT companies. The housing demand is high in areas include Kondapur, Madhapur, Gachibowli, Raidurgam, Narsingi, Nanakramguda, Puppalaguda, Manikonda, Himayath Nagar, Kokapet, Bachupally, Chandanagar, Hyder Nagar, KPHB, Nizampet, and Pragathi Nagar. The average price of a flat in these areas ranges from Rs 3000 to Rs 6000 per square feet.
North Zone of Hyderabad
The North Zone of Hyderabad has excellent infrastructure like National Highway (NH-65), Metro up to JBS, Outer Ring Road (ORR), and proposed SRDP projects.
Due to this developed infrastructure, the construction of residential projects are very high in areas include Alwal, Bollaram, Bowenpally, Kompally, Saket, Malkajgiri, AS Rao Nagar and Sainikpuri.
The price of a flat in these areas ranges from Rs 2800 to Rs 4000 per square feet.
The price of flats fluctuates depending on the area.
South Zone of Hyderabad
Airport, ORR, and the latest IT SEZ proposals are driving future growth in South Zone of Hyderabad and attracting many home buyers.
Several real estate firms have undertaken residential projects in Bandlaguda, Appa Junction, Attapur, Hyderguda and Rajendra Nagar.
Depending on the areas the price of a square yard varies from Rs. 30,000 to Rs. 40,000.
The cost of flat ranges from Rs 3,000 to Rs 4,000 per sq.ft.
Infrastructure Developments
With the arrival of the Metrorail, Hyderabad is seen as a promising area for buyers.
There is an excellent transportation facilities in areas include Vijayawada, Warangal, Outer and Inner Road.
The construction of residential properties is very high in LB Nagar, Nagole, Bandlaguda, Hastinapuram and Uppal.
Depending on the area, the average cost of a square yard ranges from Rs. 25,000 to Rs 46,000. The price of a flat varies from Rs. 3,000 to Rs.4500 per square feet.
Checklist Before Buying a House
Affordable houses and apartments in Hyderabad are available in all areas. You have to know about the builder previous projects to make wise decisions.
With the implementation of the RERA (Real Estate Regulation and Development Act), you can find out whether the builder completes the projects within the given timeline.
Small construction firms undertake 10 to 100 units of housing with useful facilities at affordable prices. It is better to visit the site during construction and check the quality of construction of a house before making decisions.
Visit www.propertyadviser.in, here you can filter properties based on your requirements such as budget, area, type, and many more. We guide you to reach your dream home easily. Choose the best home from 1000+ properties in Hyderabad and lead a happy lifestyle.
By: Shailaja K
---