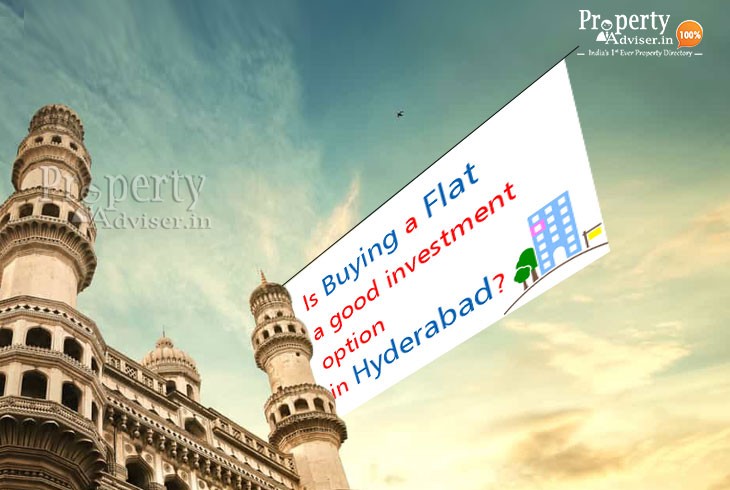 09:32 AM
12
Mar
2019
Hyderabad is one of the topmost growing cities in India. Developing infrastructure and affordable housing attracting many buyers to buy a flat in Hyderabad. Keeping this in view, many reputed real estate developers are constructing many residential apartment projects in Hyderabad with excellent amenities for a better living.
Employment with the software companies situated in prominent areas includes Hitec City, Madhapur, Kondapur, and Nanakramguda has encouraging people to buy a home in Hyderabad. Investment decisions are very confusing and have a lot of dependency on your objective when it comes to property investment.
Do you want to know is buying an apartment is a good investment option in Hyderabad? Look at the below points and know the benefits of investing in a flat/apartment in Hyderabad.
Comfortable facilities
Buying a flat/ apartment is a lifestyle choice for many buyers. The key advantage of buying a flat is if you buy a flat the amenities and services come along with it. It helps you live a hassle-free and comfortable life.
Bank Loans
Buying an apartment make it easy to take a bank loan. In a home loan, a buyer can get nearly 80-85% funding for the purchase of a flat. Moreover, the maximum loan tenure for a flat can even go up to 25 to 30 years.
Smart Income Source
If you are decided to buy an apartment to give it for rent. Then you can generate handsome income from the first day of taking the possession. There are also less chances of legal actions with modern laws.
High Return On Investment
The price of the flat would keep increasing over time since the demand is always increasing. Prices of apartments rise higher and faster compared to independent houses.
Appreciation
You should buy an apartment only after researching the growth potential of the locality. You can get a better ROI if the flat has a location advantage. For example, Narsingi is becoming a favourite location for home buyers due to its excellent connectivity and location edge. The EIPL Rivera project offers a holistic living experience to its residents. It has luxurious 2 BHK and 3BHK flats in Narsingi situated strategically near Outer Ring Road. You can reach all the parts of Hyderabad quickly with its wide and smooth roads.
Property prices in Hyderabad have a high likelihood of appreciation, and commercial activities have also gathered significant momentum.
You are looking for apartments in Hyderabad. You can choose from 778 apartment flats in Hyderabad as per your taste and budget at Property Adviser. A number of newly constructed apartments are coming up in prominent areas of Hyderabad. You can reside with peace of mind with all luxurious and quality facilities at apartments in Hyderabad.
By: Shailaja K
---