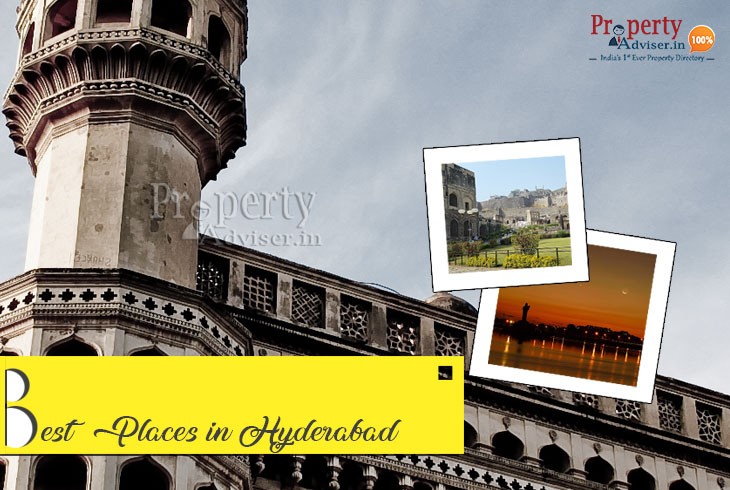 09:33 AM
14
Mar
2019
Hyderabad, the city of pearls is the capital city of the youngest state Telangana. With a blend of rich cultural past and modernized present, Hyderabad tourism mesmerizes everyone with its enchanting views.
From the authentic taste of biryani to Nizam's historical monuments, there are some excellent tourist places in Hyderabad. For the past few years, the city has seen enormous growth in the IT sector which in turn resulted in real estate boom on a rapid pace.
Charminar
The first thing that comes on everyone's mind, as soon as they think of a place to visit in Hyderabad is Charminar. Located in the heart of the old city, it is an ancient square shaped structure constructed in 1591. Built by the great Sultan Mohammed Quli Qutb Shah, the place offers some ravishing views in the late evenings. Charminar is most popular for shopping, as the nearby streets offer some of the world's best-handcrafted bangles.
Birla Mandir
Constructed in 1976, Birla Mandir is a Hindu temple located 280 feet high on Kalapahad. Apart from being a calm and pleasant place, as it is constructed with more than 2000 tonnes of white marbles, it offers an eye-catching view for the visitors. The temple is mainly famous for Lord Balaji, while it also has smaller temples of other deities.
Hussain Sagar Lake
Connecting the twin cities, Hussain Sagar Lake also called TankBund, is one of the largest man-made lakes in Asia. It is well known for its white granite statue of Lord Buddha located in the midst of the lake. There is always something or the other recreational activities happens in the place, which never lets down to energize its guests.
Ramoji Film City
With the famous tail of Bahubali series, Telugu movie industry has emerged, reaching millions of audience worldwide. Built by Ramoji Rao in 1996, it is like a south Indian version of Disney world. It is one of the best places to visit near Hyderabad as the place at a time can offer 20 film units with different shooting locations.
Golconda Fort
This magnificent fort is one of the most majestic fortresses in India. It is located near Hussain Sagar and is built on a granite hill. The architectural design of the fort emerges mystical historical view. It is quite popular for producing some of the world's best diamonds like Kohinoor, Hope Diamond, and many more.
In Brief
The tourist sites of Hyderabad is a never-ending list. Each and every corner of the city has uniquely fascinating places. With Hyderabad famous places and modern metropolitan facilities, it offers a refreshing stay for everyone.
Are you struggling hard to find properties in Hyderabad? We are here to help, as India's first ever property adviser portal, our team understands the customer's interests and is on a mission to provide them with their dream house. As we have a wide range of database one can easily find properties as per their necessities at an affordable range.
By: Govi
---