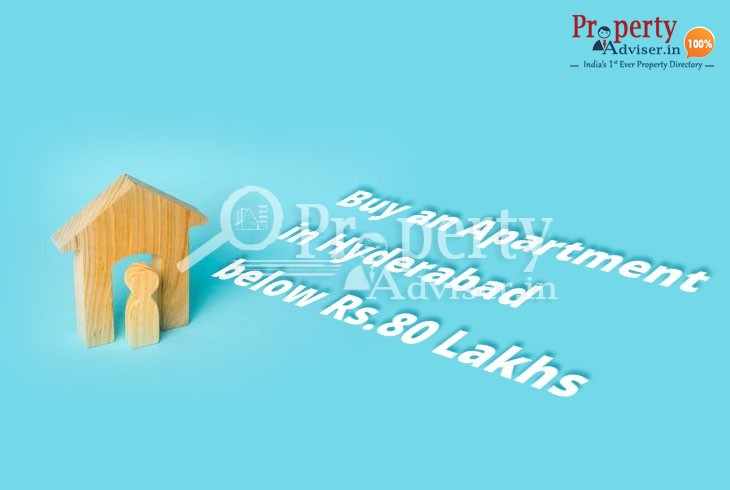 09:35 AM
29
Aug
2018
Hyderabad is emerging as a commercial and residential hub. The city has become a favourite destination for home buyers due to the Government policies such as affordable housing, RERA, GST and developing infrastructures like laying of CC roads, flyovers, foot overs, metro parking, and AC bus stop.
Many reputed real estate developers have constructed residential projects in Hyderabad, and some are on the verge of constitutions in prominent areas include Gachibowli, Kukatpally, Miyapur, and Kondapur.
You can buy the best property in these locations at a price less than 80 lakhs built with modern and luxurious amenities include 24/7 security, swimming pool, gym centre, jogging track, bore water facility, landscaping, and so on for a comfortable and luxury stay.
Today we explain you in detail about the properties for sale in Hyderabad below 80 lakhs.
Properties for sale in Hyderabad
Gachibowli:
Gachibowli area has 1699+ residential units for sale. The area is emerging as an investment destination for buyers especially working professionals due to easy commuting to IT hubs. Apartments for sale in Gachibowli below Rs.80 lakhs include Smondo, My Home Avatar Block B, My Home Avatar Block A, My Home Avatar Block J and My Home Avatar Block G.
Kukatpally:
Kukatpally area is emerging as a real estate destination for more buyers due to easy connectivity to supermarkets, shopping mall, schools and workplaces. Kukatpally has 3450 flats for sale with high-end facilities. Apartments for sale in Kukatpally include Lake View Residency, Korkkanda Residency, NSK Exotica Lotus, Surya Prabhakar and Other, Kartikeya Constructions, and HM Avenues.
Miyapur
Miyapur area has become one of the busiest places in Hyderabad due to the arrival of metro rail. The place has good connectivity to software offices and other major landmarks in the city. The area has 2486 residential apartment units for sale. The flats for sale in Miyapur include Jewel Garden Block B, Mirra Panchajanya - C and D, Coconut Grove Phase – 2, Priya Builders and Silpa RV Dharmista Wing A.
Kondapur
Kondapur has burgeoned into the modern business hub, and most of the software offices are located in the vicinity. The area is most suitable for professionals working in IT-sector to dwell in. Kondapur has 991 residential units for sale. Paramount Hill County – B, Kinetic Pearl, Grace Elite Residency, Aditya Geetanjali Residency, and Sri Sai Constructions are the available properties for sale in Kondapur.
Planning to buy an apartment in Hyderabad, visit www.propertyadviser.in to know more about newly constructed properties for sale in Hyderabad. We guide in making quick and wise decisions to choose the best home in Hyderabad.
By: Shailaja K
---