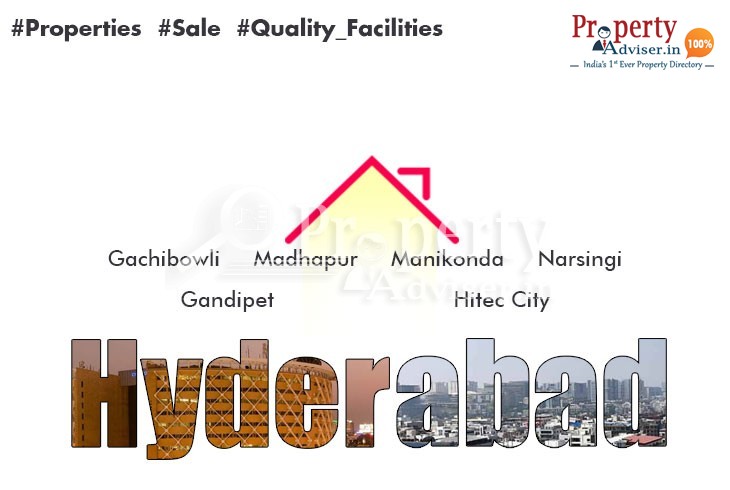 09:52 AM
02
Oct
2018
The effect of demonetization, Goods and Services Tax (GST), and the Real Estate Regulation Act (RERA) rules is felt on the real estate sector. We see a positive effect on the real estate sector. As there is an increase in residential real estate investments in India from HNI (HNIs or individuals with investable assets of $1 million or more).
Six Reasons Attracted People to Invest In the Real Estate:
The demand for residential properties increased after demonetization.
The availability of low-cost home loans to promote investment in the real estate sector.
The tax benefits in the form of deductions of interest and the principal component of home loans to individuals.
The increase in the supply of houses with excellent amenities and yet are affordable.
The cost of properties in Hyderabad is affordable compared to the other metro cities such as Bengaluru and Mumbai.
The introduction of Hyderabad Metro, last-mile connectivity, improvement in roads, and construction of flyovers and foot over bridges, has improved the image of Hyderabad.
Therefore, there are many people interested in buying a house in Hyderabad.
Prominent Areas in the West Zone of Hyderabad
Gachibowli
Madhapur
Manikonda
Narsingi
Gandipet
Hitec City
Why Demand For Residential Properties High In the West Zone?
The demand for residential properties for sale in the West Zone of Hyderabad is high as many IT companies like Microsoft, TCS Dell, Infosys, and so on have their offices here.
The proximity to the offices makes it a popular destination to buy a house among working professionals.
Many reputed builders are constructing gated community properties with luxurious amenities include 24/7 water facility, clubhouse, power back up swimming pool, AC gym, theatre, etc.
The houses are available with a maximum of 6000 square feet sizes here.
NRI, IT professionals, pharmaceutical employees, business owners and top executives are buying these expensive houses.
So, with all available facilities, low land prices, pleasant atmosphere, and local government policies attracted premium customers and made west zone as a preferred choice for buying a home in Hyderabad.
The below table gives the details of projects available for sale in Hyderabad West Zone areas:
| | | |
| --- | --- | --- |
| AREA NAME | TOTAL PRICE (IN Rs.) | PROPERTIES FOR SALE |
| Gachibowli | 62.5 Lakhs - 3.57 Crores | The Botanika, My Home Avatar, and Danish Heights |
| Madhapur | 73.3 Lakhs - 5.52 Crores | Quiescent Heights, Preston Ivy, Fortune Prime and Sri Balaji Icon |
| Manikonda | 32.0 Lakhs - 5.40 Crores | Anuhars R R Towers, Central Park , Trillium, VIHHARI , and Sree Hemadurga Siv Hills |
| Narsingi | 50.9 Lakhs - 4.80 Crores | Muppas Alankrita , Rivera Blocks, Hallmark Vicinia, Riddhis Saphire , and Accurate Wind Chimes |
| Gandipet | 3.28 Crores - 8.56 Crores | CASA GRANDE, Vivana Espania Life Style Villas, and NORTHSTAR HILL SIDE |
| Hitec City | 60.9 Lakhs - 4.25 Crores | The Life, NCC Urban Gardenia, Prestige Ivy League, JYOTHI COSMOS , and My Home Bhooja |
Log into www.propertyadviser.in to know the more happening news in the real estate sector.
By: Shailaja K
---