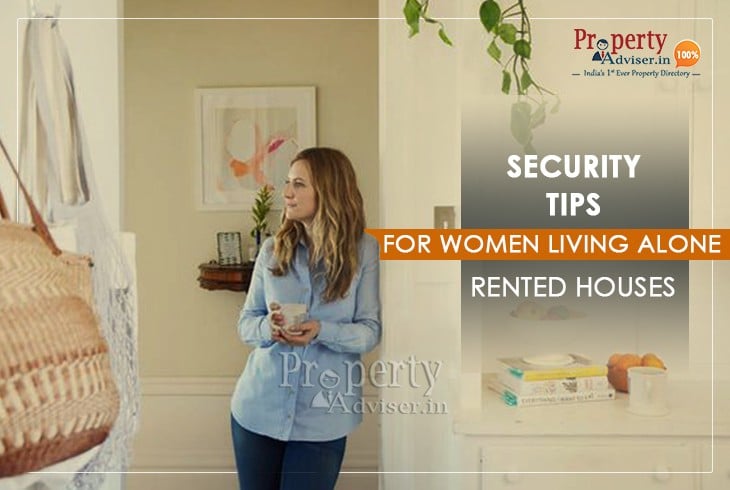 09:32 AM
22
Apr
2019
Living alone can be very rewarding, but sometimes it can also be terrifying. Feeling strange noises in the middle of the night or hearing voices when you know that your neighbours came out is not funny at all. Therefore, the good idea is to incorporate some security measures to avoid unhealthy feelings of fear and insecurity.
Look at the below safety tips for women living alone, a very useful guide, so you can sleep peacefully every night and enjoy your home to the fullest. Keep reading and discover the best ways to avoid this type of inconvenience.

Infographic Explanation
Change Your Locks
Something that many people do not even think about when moving to a new home about the locks. Before moving to your new house, it is essential to change the locks. The previous occupants can have a copy of the original keys, which means that a stranger can have easy access to your house. Your owner may have changed them in advance, but also you have to take care of it. If it is not done, you never know who else may have the key and arrive unexpectedly. Also, give a copy to the owner and warn that you have taken these measures for safety.
Do Not Show Yourself Vulnerable
Unfortunately, in today's society, a woman who lives alone is seen as an impressionable by criminals and unscrupulous people. That is why an excellent way to ward off intruders is to make them believe you are accompanied. Try to receive guests regularly so they know that there are people who will worry and notice if something strange happens. Keep excellent communication with your neighbours and if possible put man objects in sight at the entrance of your home. This way maybe you could save yourself a hard time.
Do Not Take the Risk
The most significant recommendation is that you trust your instincts and keep all the doors locked when you are at home and when you are out. Do not invite strangers into your home directly, be alert when you are walking from the car to the door and try to have your keys ready to enter as soon as possible.
Place Window Bars
Place bars in every window of your house unless some opening to someplace with difficult access for a person. The simple fact of seeing bars will take away the desire of a thief to get into your house because it will be complicated to get in and out. If you can install blinds, otherwise place dense and thick curtains so that when you turn on the light or during the day, nobody even sees your house through them.
Good Relationship with Friends and Neighbours
Always communicate with family and friends. And if you plan to leave the city, let someone know where you are going to be and when you will return. If something happens, it is better that someone knows your plans. Keep a good relationship with your neighbours. Although not frequent, it is always good to have contact with neighbours for any emergency. Preferably give them the phone number of a relative in case of an emergency and your phone number. Whenever you go on a trip, ask them to "give you an eye" to your home.
Be Attentive
Before opening the door, check who is outside the door through the window. If you see someone in uniform, ask for their identification first, either through the window or through the peephole. Be attentive and prepared when you go to your house, verify that nobody is lurking. Also, carry the keys in your hand so that you can immediately enter your home and close the door behind you. Delay gives someone time to position themselves behind you. When you leave, you should also carry the keys in your hand as a defensive tool to use if someone catches you.
Protect Yourself
Make sure you have good lighting, especially the entrance. Dark entrance is more attractive to thieves, while well-lighted houses do not provide the coverage they need to force entry. It is important to keep some secured things in your wallet and at your bedside table to protect you in case of an emergency. An excellent type of security for women who live alone is to opt for pepper gas, which is a little violent, discreet and effective alternative to neutralise an attacker. It is always good to have this useful device with a woman living alone to protect herself.
Be Cautious of Social Networks
Women who live alone in a rented house should be cautious with their social networks. Especially careful with the amount of information you share. Publications about what you are doing or where you are going can be a source of information for criminals. Even with a private account, it does not mean you're safe. If someone wants to find out about your comings and goings, it is not difficult to take advantage of social networks. Also, you can install an alarm system for your house. If anyone opens the door, they produce noise.
Living alone can be wonderful; you have the space for yourself, good privacy and no one to interrupt you in your daily activities. However, in times of crisis, you may have the impression that you are completely unprotected. Do not despair! Avoiding any security problems is simply a matter of taking the necessary measures and being aware of the danger.
Do you want to buy a home with good neighbourhood and excellent security? We furnish you the detailed information on properties in Hyderabad like available units, available facilities, nearby areas, and much more useful information. Being a pioneer in verified residential information, we helped a lot of home buyers to find the best home as per their needs.
By: Shailaja K
---