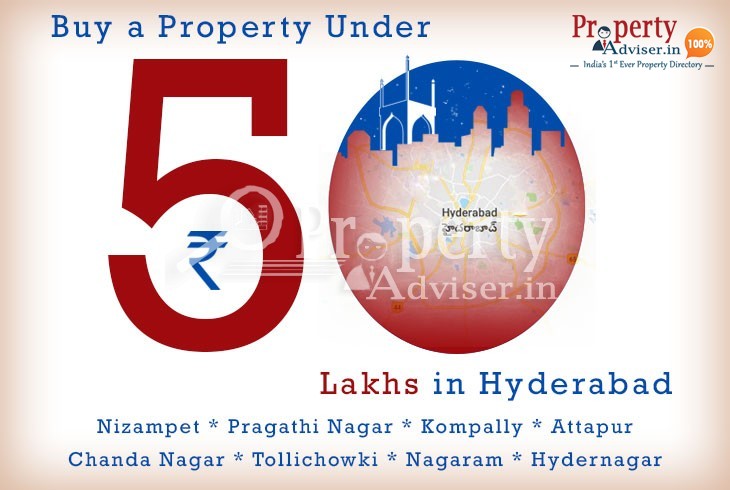 09:36 AM
02
Jun
2018
Hyderabad is one of the most expensive cities in India to invest in property. Did you know that you could find houses that cost Rs 50 lakhs at attractive locations in Hyderabad? You can find a studio, 1BHK, or 2BHK flats within your budget here. Developing infrastructure and Metro Rail makes it desirable to own Residential properties here.
What factors affect your purchase decision?
Is it the cost, location, amenities, proximity to schools, hospitals, and offices?
Log in to www.propertyadviser.in to search, filter, and find several projects that provide all the facilities at a single click. You can filter properties based on location, occupancy, budget, and so on.
Where do you find property costing less than Rs 50 lakhs?
There are 12977+ residential project units in locations such as Nizampet, Pragathi Nagar, Kompally, Attapur, Chanda Nagar, Tollichowki, Nagaram and Hyder Nagar. The unit prices in these areas range from Rs.25 lakhs to Rs.50 lakhs. These areas have good civic and social infrastructure such as malls, multiplexes, schools, hospitals, and so on. Nowadays, the demand for the property in these areas is sluggish due to the development of the city plans such as metro, new roads, flyovers, and so on.
Location and Price Range of Properties in Hyderabad city
The price range in the following areas in Rs (Min to Max) are:
Nizampet - Rs 15.9 lakhs to Rs 88.2 lakhs
Pragathi Nagar - Rs 30.2 lakhs to Rs 65.7 lakhs
Kompally - Rs 21.5 lakhs to Rs 2.73 crores
Attapur - Rs 34.6 lakhs to Rs 2.34 crores
Chanda Nagar - Rs 38 lakhs to Rs 81.3 lakhs
Tollichowki - Rs 36.4 lakhs to Rs 3.35 crores
Nagaram - Rs 12 lakhs to Rs 38 lakhs
Hydernagar - Rs 36.9 lakhs to Rs 1.05 crores
Gated Community Projects for Sale in Hyderabad
The gated community projects are Paramount - D Block, Paramount - D Block, RR Fort View Tower A, Shreerath Apartments, and Noveo Homes Block – D.
These residential projects are built with good amenities such as 24/7 security, swimming pool, gym centre, jogging track, bore water facility, landscaping, and so on for a comfortable stay.
By: Shailaja K
---