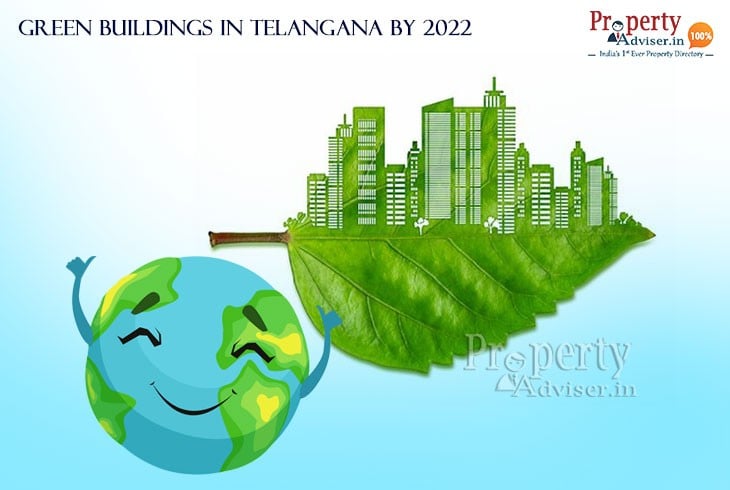 09:32 AM
30
Oct
2018
What are Green Buildings?
Buildings that make optimum use of natural resources from planning, design, construction and occupancy is a Green Building. Green Buildings help create a positive impact on the ecosystem as it creates a more resource-efficient design that is also sustainable.
IGBC (Indian Green Building Council) plans to build $300 billion worth of green buildings in India by 2022.
The Indian Green Building Council (IGBC) organisation currently has a total of 6.33 billion sq ft of built-up space of green building projects across India.
The Latest Eco-Friendly Announcement by the Telangana State Government:
Mr S. Srinivas, a principal advisor of CII-Godrej GBC (Green Building Council), said that in the state of Telangana, there are a total of 300 residential projects adopting IGBC green building rating systems.
IGBC Hyderabad chairman Mr C. Shekar Reddy said that The Indian Green Building Council (IGBC) plan to reach 10 billion sq. ft of green building in India by 2022. In the speech, he announced that the Hyderabad would be hosting the 16th annual edition of CII-IGBC Green Building Congress 2018 from November 1st to 3rd, 2018.
The agenda of the 16th CII-IGBC Green Building Congress 2018 are as follows:
To create the right awareness of green buildings.
Promote more green buildings in India.
Host the international exhibition of 150 green products and technologies.
Green affordable housing.
Green cities.
Green hospitals.
Green schools.
Green landscape.
IGBC also plans to reach $300 billion by 2022.
He further informed that already many state governments include West Bengal, Andhra Pradesh, Himachal Pradesh, Rajasthan, Punjab and Jharkhand have started giving incentive to builders for developing green buildings such as tax discount to make it lucrative.
Telangana is also expected to provide such incentives in the coming months.
Some of the incentives that are already announced by state government earlier for green building constructions are:
20% permit fee is to be reduced
Slashing impact fee by 20%.
Reducing water and Sewerage tariff by 10%.
Provide faster clearance for construction of green projects.
A 10% rebate in property tax.
Benefits of Green Building Constructions to Buyers:
Green buildings have a substantial positive effect on the environment.
A green building also ensures that the surrounding eco-system is protected and further enhanced.
They consume less resource and improve the productivity of occupants.
They have a positive effect on the productivity and well-being of those who occupy the building.
The construction of green building ensures a reduction in CO2 emissions and encourages conservation of water and energy.
Nowadays sustainability is become the preferred choice to buy a house. Nearly 60% to 70% of the building materials required to construct the green buildings are now available in India. Earlier builders imported all the green building materials. Due to the increase in demand for green buildings, it is expected that 90 percent of materials will be manufactured in India itself.
The upcoming green building incentive project is expected to improve the overall environment of Telangana.
For the latest real estate sector news, visit www.propertyadviser.in.
By: Shailaja K
---