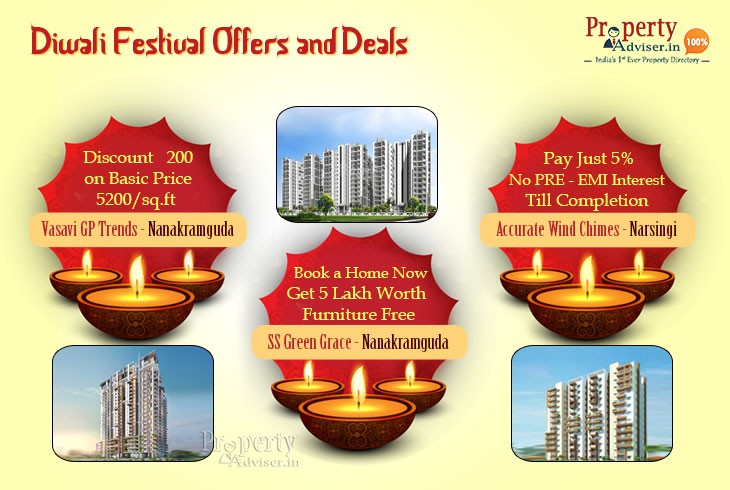 05:00 PM
06
Nov
2018
Diwali is a festival of joy, dazzling of lights and marks a new beginning. Across India, Diwali is celebrated as the festival of lights that marks the end of darkness where people light lamps and celebrate the beginning of a new year.
Why Should You Buy a House During This Festive Season?
Diwali begins with Dhanteras, a day on which most of the business communities in India start their new financial year.
The word 'Dhan' stands for wealth, and 'Teras' means the 13th day of the month of Aswin according to the Hindu calendar.
It is considered an auspicious day to buy jewellery and property.
Isn't buying a home one of the most critical decisions you make. Why not do it now?
During Diwali, Laxmi pooja us performed to bring prosperity to your home, as Goddess Laxmi is the Goddess of wealth.
There are attractive festive season offers, discounts, gifts, tokens such as gold coins, free cars, and holidays if you book a house now.
The following are some of the new properties for sale with festival offers:
If you book an apartment during Diwali, you get a discount of Rs 200 on the basic price of Vasavi GP Trends. Vasavi GP Trend is a residential apartment in Nanakramguda. It is an exclusive offer in this festive season. Basic price is Rs. 5200 per sq.ft. Offer valid up to Diwali.
Book an apartment at Accurate Wind Chimes Block C now and pay only 5% of the purchase price. You don't have to pay PRE- EMI Interest till completion. It is an exclusive offer during Diwali. Accurate Wind Chimes Block C apartment project is in Narsingi. Owning your dream home at a premium location with all the amenities just got easier.
Book your dream home now in SS Green Grace and get up to Rs 5 lakh worth furniture free. Hurry up. Offer is valid for a limited period only.
Visit, www.propertyadviser.in to find more details about the newly constructed properties for sale in Hyderabad. You can know the features of locality like transport facilities, hospitals, school and banks in the area, and so on.
By: Shailaja K
---