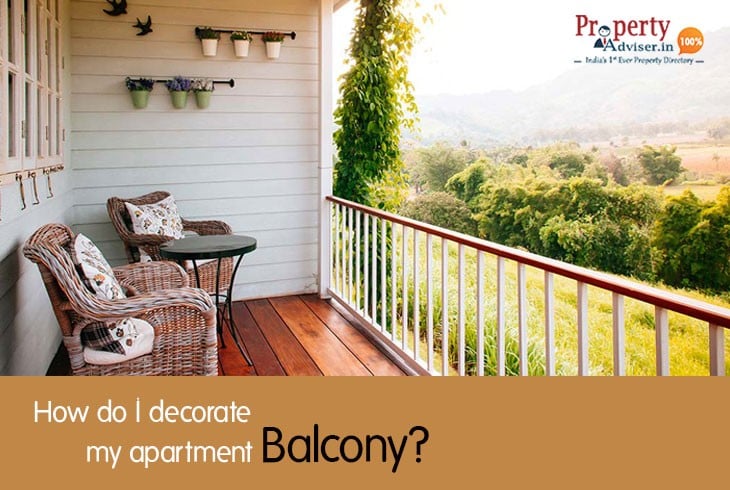 09:48 AM
01
Apr
2019
Spending some time in decorating the balcony of your house will bring an attractive look to your home. Put some plants that give a touch of colour and turn it into one of your favourite corners of the house.
A balcony is a place where you can relax and enjoy the climate. You have to know how to get an attractive look to your balcony.
Give a cosy look to your balcony by adding couches, a small coffee table and a wooden themed wall. Try to pick colours that are not too flashy but are cool in the eyes. The colour scheme is easier to look at and more comfortable to blend as together.
Consider the below simple ideas to decorate your apartment balcony.
A Rustic Style Balcony
Decorate your balcony with a country style to get an attractive look. In this space, you can place several rustic and antique-looking elements like a straw hat, wicker baskets and a wooden fruit basket that makes your balcony to look attractive.
Wooden Deck to Get More Privacy
You can take advantage of the balcony to place a vertical garden. In each of the corners put large planters with shrubs. To have a seat place a bench and two matching wicker chairs.
Hang Pots
Distribute several panels with grilles on the wall to hold different plants. Place the wooden sofa decorate it with colourful covers and cushions with which looks attractive.
Tropical Paradise
Decorate your balcony with small plants, flowers and herbs. Place a table with two chairs, so that in warm days, you can enjoy fresh air with your morning coffee or tea in your balconies.
Combine Pieces of Different Styles and Colours
To enjoy the environment during the night hang two lamps in the balcony. Place the carpet in blue and white colour brings a more homely touch. Decorate each space of the corners with furniture and place a plant with flowers to get a better look.
Balcony with a Natural Look
People experience high temperatures during the summer months. So decorating the balcony with organic materials is a wise choice. Use natural materials like wicker, wood, and terracotta in the form of furnishing and use them to make your balcony look pretty and natural.
Landscaped Flooring
Do you like to walk in the grass to enjoy the natural environment? Then, decorate your balcony with a grass carpet instead of keeping the usual tile flooring. Get the feeling of nature whenever you step into the balcony.
With following the above ideas decorate your apartment balcony and retreat every day. We help you with accurate and verified information of residential properties for sale in Hyderabad. Choose from more than 800 residential properties having spacious balconies, natural surroundings and quality facilities. Buy the best home that suits your requirements and lead a happy life.
By: Shailaja K
---