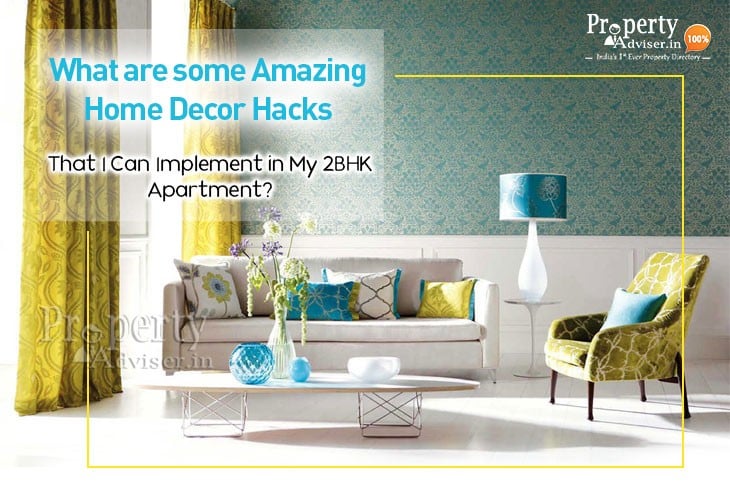 10:00 AM
30
Mar
2019
Have you ever heard anyone saying "House Sweet House? Well! You might never, a home is much deeper in an emotional sense. Anyone can buy a house, but it's you who mould it into a sweet home. By adding some extra features one can easily transform their house to home.
So, why wait? Don't want to waste your amazing creativity in a rented house. Find a new affordable house in Hyderabad at www.propertyadviser.in. Let's check out some of the most amazing home decor ideas that you can implement.
Gallery Wall
Irrespective of large or small apartment decor, one can easily find a wall to fill their memories. Here the possibilities are endless. Instead of adding any extra outside features to your house, just create a gallery wall with all your personal favourite images.
You can either display your personal collection of art or family pics. Just use some simple or designer frames and arrange them in a unique way as per your interest to create a stunning gallery wall.
Bring in Greenary
Nothing is best as mother nature when it comes to house decorating ideas. Add small indoor plants to add life to your living room. As, there a lot of availability of different types of plants at an affordable range, one can easily find them. You can either place on stools, small tables or can even hang them for an enhanced fresh feel.
The indoor plants need very little space and a limited amount of sunlight. Houseplants are a perfect way to style your indoors. Not to mention, they are a great source to purify the air in your home.
Add Bright Colours
It's time to step out of your comfort zone. Paint your hallways in bright unique colours or cover them with rich patterns. It is one of the popular house decor ideas. Colouring the walls can change the entire view of the house. Instead of adding the same colour to your entire home, you can opt for different shades for different walls.
Patterned walls are the modern way to cover up the empty spaces of the rooms. Although this idea may cost you a few bucks it is worth a shot. One can choose different patterns according to their furniture, interests, etc.
Floating Shelves
No one minds an extra space. Did you run out of space to add your unique collections? You can install extra floating shelves, which are easily available. These shelves can add a complete makeover to your home.
You can place plants, small sculptures, vases, books, and many more. Floating shelves have many uses, as they serve as a great apartment decor idea and at the same gives some additional space to put all your collectables to display.
Colourful Curtains
Ever thought the colour of the curtains can make your room look smaller or bigger? Eventually, darker coloured curtains make your room look smaller when compared with lighter curtains. When you use light coloured curtains they brighten up the room making it give a fuller look.
As windows and doors are the ones that allow sunlight into the home, curtains play a significant role in house decorating. Curtains can make the windows more stylish and beautiful. When choosing curtains the fabric, patterns, colour all come into consideration.
Conclusion
As we discussed some of the best house decorating ideas for an apartment. Without your personal touch, nothing can be made possible to transform your house. Want to decorate your own apartment? Browse our online portal and know about some of the best apartments for sale in Hyderabad to find your dream home.
By Govi
---