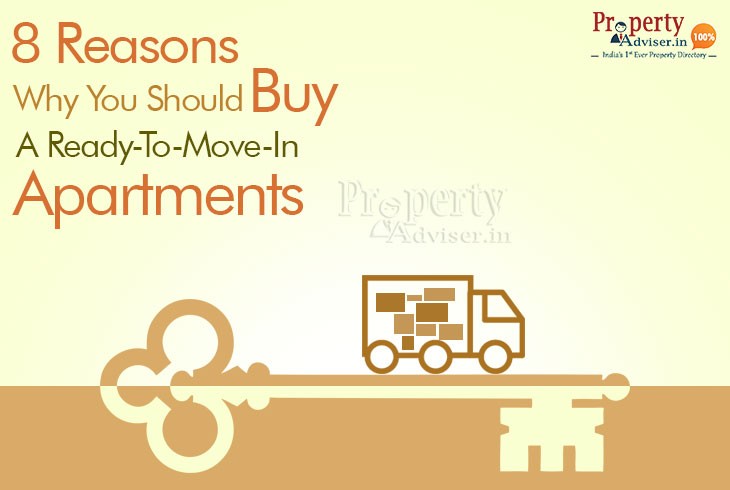 09:32 AM
04
Apr
2019
Having a space ready to live brings different advantages not only to your lifestyle but also to your pocket.
If you have dreamed of buying your own home, you have the intention but do not know whether to invest in new or used housing. The below reasons will help you know why buying a ready to move apartments in Hyderabad is the best option.

Easy To Acquire
In ready to move apartments you can view the quality, space, available size amenities, fixtures and closely inspect the structure and quality of facilities. Presently, with the introduction of RERA, there is no risk of delay in the delivery of projects. So, buying a ready apartment make you have a comfortable and tension free process. Only you have to make the payment, sign in documents, and take the keys and step into you of the apartments.
Avoid Risks
In ready to move flats you will not find risks factors like disputes, delay in possession, lack of amenities, quality of construction, change in the plans etc. you can easily move immediately after the payment. You can view the list of top residential ready to move apartments in Hyderabad at Property Adviser. The premier projects offer natural surroundings with luxurious facilities which provide you to lead a high-quality lifestyle.
Return on Investment
If you buy a home and planned to move after a few years than you can rent it and make some rental income. This income can be used to pay your EMIs and other expenses. You can get good returns on your rented house if it is located in the central location or near to IT hubs. So income on rents varies based on the location of your apartment.
Easy To Inspect
The primary advantage of purchasing a ready to move apartment is you can be aware of the facts and quality of the apartment. Moreover, there is no risk of mismatches with the features, layout, and facilities guaranteed by the builder. In completed projects, you can find some people living there. So, you can get feedback about the area, apartment maintenance, area, nearby facilities from the people who are already residing in the apartment flats. It helps you to make well-informed decision making in buying your dream home.
Government Benefits
While buying a home, taxes play an important role. Real estate Budget 2019 is an initiative to make the housing dream come true to all citizens. If you buy a ready to move property, then you may save the GST cost. So use the benefits of Government with buying a ready to move apartment and lead a hassle-free life.
Exceptional Facilities
Many reputed real estate builders are constructing quality apartments with luxurious amenities. The apartments with modern amenities include a lift, swimming pool, meditation hall, 24/7 security, children's play area, car parking, gym centre, clubhouse, CCTV surveillance, multipurpose hall, cricket pitch, and so on. The gated community apartments are located near the IT hubs and have secure transportation facilities.
Project Offers
Nowadays many developers offering attractive payment schemes and freebies in ready property. Also, the scope for capital appreciation is muted in this case. If you want to buy a property for immediate use and has the finances, it makes sense to invest in a completed or ready to move apartment.
No Rent
If you buy an under construction apartment, you have to pay rent, Pre-EMI and the interest to your home loan. It will be different in ready-to-move-in apartments as you will not need to pay rent and can reside peacefully in your own home
Buying a home in Hyderabad city was a hike in demand due to developing infrastructure and comfortable commuting facilities. Acquiring a ready-to-move-in home in Hyderabad prominent locations became very easy at Property Adviser. We can ease your search with the verified property list and find your dream home.
By: Shailaja K
---