The Municipal Department released Layout Regulatory Scheme (LRS) guidelines on Tuesday to bring all the unapproved layouts in Telangana into the fold of planned sustainable development.
Telangana LRS 2020 Guidelines
The Government of Telangana announced new Layout Regularisation Scheme (LRS) to legalise open plot in unauthorised layouts of the state. The illegal layouts that have been developed and registered in the form of sale deed before 26 August 2020 can be regulated in respect of penalty payments. The last date for submission of LRS applications is 15 October 2020.
In its GO (No. 131 August 31, 2020), the Municipal Administration and urban development department (MA&UD) have specified that Telangana Regularization of Unapproved and Unlawful Layout Rule 2020 is to be enforced by Hyderabad Metropolitan Development Authority (HMDA), panchayats, other urban development authorities, municipal corporations, and municipalities.
The government has stated that owners of the property, private developers, companies, and property developers can regulate illegal land layouts if at least 10 percent of the land is sold in registered documents on or before 26 August. In all such illegal and unapproved layouts, no plots shall be registered and no buildings permit issued in such layouts in compliance with the relevant provisions.
No layout or development activities in the river or Nala ground, Full Tank Level (FTL) of all lakes, ponds, cheruvus, or kunta and in shikam lands would be regularised. Since water bodies and wetlands should be protected as the leisure or green buffer zone, there should be no other layout-development activity, just recreational use, within thirty metres of the river or 10-hectare lake boundary. The lake would be less than 10 hectares and 9 metres away and the river and vagu borders less than 9 metres away.
LRS Registration Fee
The government has confirmed that all municipalities and panchayats will have access to the LRS scheme. As per the GO, the applications may be submitted on-line for regularisation, in the specified format.
The amount of Rs 1,000 is charged by individual applicants for the registration fee

For layout developer, Rs 10,000 fee declared for registration

An individual with a plot of less than 100 sq.mts is entitled to a regulation fee of Rs. 200

Rs. 400 for regularisation of 101 to 300 sq.mts

For regularization of 301 to 500 sq.mts of land fee is Rs. 600.

Rs. 750 per sq.mt for regularisation of above 500 sq.mts area.
The government in its orders said that the LRS amount collected shall be kept in a separate escrow account and separate guidelines shall be issued by the Government on the utilization of LRS amount for the development of infrastructure in respective local bodies.
Hyd GHMC to get Rs 300 Crore Collection from New LRS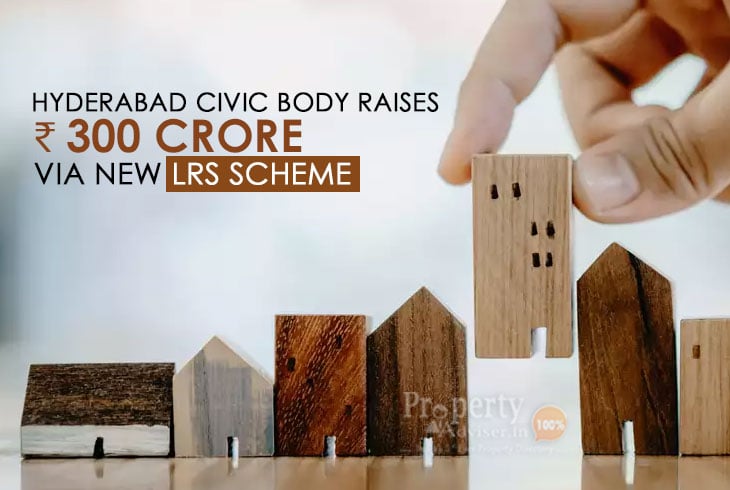 The Greater Hyderabad Municipal Corporation (GHMC) expects Rs 300 crore in its coffers with the issuance of its latest notification for Layout Regularization Scheme (LRS). An evaluation has been done, and it is expected to receive 50,000 LRS applications under GHMC limits. Of 85313 pending applications for the LRS, 30092 were issued, 21300 were rejected, and 28,306 applicants did not submit all documents. The rest did not pay the required fee.
GHMC officials stated that only layouts for which procedures were approved (30,000) were eligible for registration as per the latest memo released by the Registration and Stamps Department. The declined applications are those where the parcel of land falls into full tank level (FTL) of lakes, buffer zones and stormwater drains.
According to GHMC reports, despite reminders some candidates whose requests were held pending because they did not submit documents. The instructions were given to the applicants and briefed about the list of documents they needed to present, but they did not produce them. Before 15 October, the applicants could submit the pending documents online.
Officials of GHMC stated that Unlike previous, this time due to Covid-19 norms LRS melas would not be conducted.
Government Initiated LRS Online Services for Regularizing Layouts
On Monday, 7th Sep 2020 the state government launched the online website and services of LRS through the 'Meeseva'. Regularizing plots and layouts can help legitimize the land, making it easier to issue permits and registrations. Government has informed Telangana's people to use the new Layout Regularisation Scheme (LRS) to regularise their illegally developed plots and unauthorized layouts.
However, only the layouts and plots with registered sale deed or title deed existing as on August 26, 2020, will be considered for regularisation on payment of prescribed charges. For regularisation of the plots, the applicants should submit their applications through online or at Mee-Seva centres in prescribed format along with related documents before October 15. They should also pay a registration fee of Rs 1,000 in case of individuals and Rs 10,000 in case of layout developers.
Furthermore, in order to regularise illegal formats, the authorities concerned were ordered to strictly adhere to existing norms.
The government provided helpline numbers to contact for resolving doubts on plotted projects they include for plots under HMDA 1800 - 4258838 and for plots under GHMC Limits is 040- 21111111. Officers will be available from 10 am to 6 pm.
The new LRS guidelines would reduce unapproved and illegal layouts in the state of Telangana and help to boost the real estate sector.
By: Shailaja K