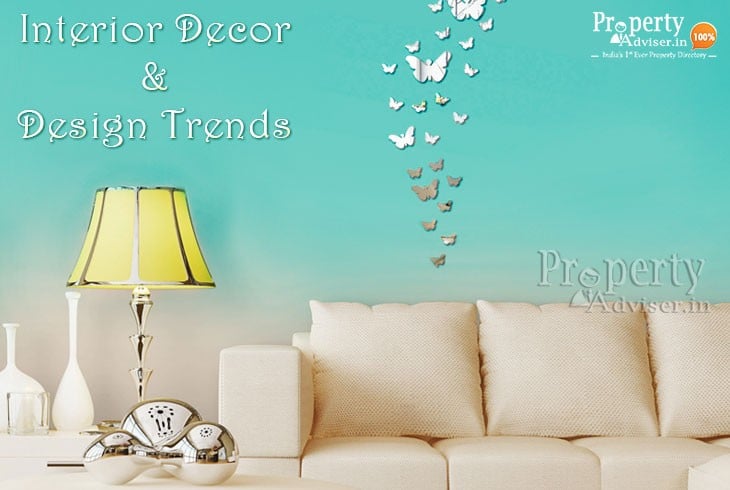 09:32 AM
01
Feb
2019
Do you wish to decorate your house? However, you might have the question How? In this article, we tell you about the interior design and décor you are most likely to see in 2019.
Bold Colours
Bold colours are widely used as paints, furnishings, curtains, and upholstery. The dull whites, beige, and cream colour are not in demand anymore. More and more people are experimenting with hitherto rarely used colours and textures. The interiors are colour coordinated, and people are spending more time and effort decorating their homes now than ever before.
Some colours, such as blue, violet, olive green, and deep purples make your house vibrant and welcoming. Combining them with the other sober colours adds character to your rooms.
Textures and Prints
Upholstery and furniture accessories in geometric designs are trendy now. Try textures on walls, cushion covers, and wooden flooring. Also, wallpapers and rugs come in different prints and textures. You will have fun just by choosing a makeover for your home. It gives you a choice to personalise your home and brings out its unique character.
Artistic accent walls with geometrical and floral patterns are so much fun to do all by yourself. It's a great stress-buster, and if you not an artist and need help drawing the designs and painting on the walls, you can get professionals to paint it for you.
Natural materials
Breathable and biodegradable materials are widely used as these are not harmful to the environment. Therefore, people are adopting more sustainable ways of construction. They use natural stones and locally available materials to decorate their homes. For example, by tying two old tyres, you can make a seating arrangement for your living room. Similarly, you can reuse old steel wardrobes by painting them in radiant colours.
Plastic bottles can be used as pots for small plants in your kitchen garden. Reusing and repurposing reduces waste production and leads to sustainable development.
Mixed Metallics
Metal-finish products and accessories add glamour and exuberance to your home. There are metallic paints, metal frames for mirrors and stylish accessories. From cutlery to decorative items, from mirrors to paintings, metals such as bronze, gold, and silver are setting the trend this year.
For example, life-sized bronze lamps, bells and vessels can be displayed at the entrance to give your house a luxurious look.
Larger Tiles
The ceramic and the vitrified tiles are the most widely used tiles for flooring in homes as they are available in a variety of sizes, colours and textures. Fireclay or quartz is glazed at high temperature to make these tiles.
It is weather resistant and requires less maintenance. It is durable, cheaper and is readily available in any part of the country.
Larger tiles are the best substitute for marble and granite, and ceramic tiles are available in granite and marble finishes.
For more information about the latest trends in 2019, visit us at www.propertyadviser.in.
Property Adviser is India's first property directory. We list properties that are under construction and ready to occupy in Hyderabad.
By: Lotus Tech
---