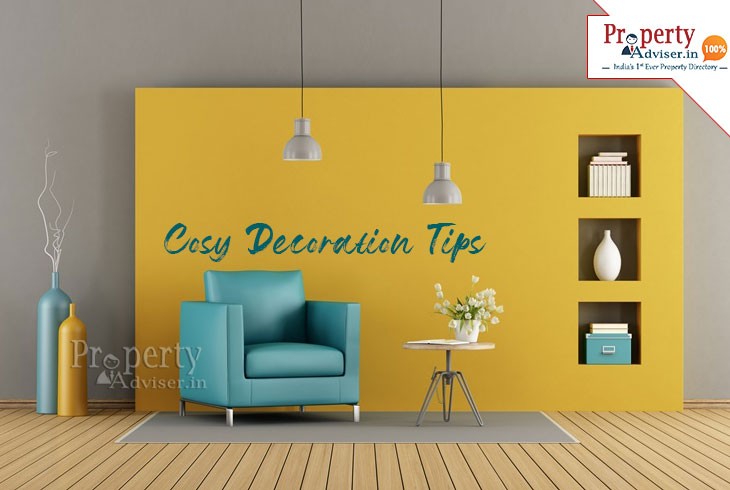 09:44 AM
29
Jan
2019
Interior Decoration involves decorating your home with furniture, curtains, lighting, paints, and so on to transform your home.
Here are some of the upcoming interior decorating trends that can be used to help you live a cosy life.
Decorating with Desi Prints
The Indian prints have a real-world charm and are unique. You can choose from a wide variety of available designs such as Ikat prints, vegetable dyes, hand-block prints to create a desi-look that is sustainable and unique.
Ikat dyeing uses resist dyeing that creates uneven designs. You can use ikat for furnishing, rugs, curtains, sofa covers, and so on. Vegetable dyes and block prints that were once used on fabrics are now being used on walls too. They give your home a refreshingly new look.
Plants
Using plants indoors not only help purify the air but also breaks the monotony, and adds to the aesthetic appeal of your home. If you must use plants indoors, select those plants that grow with basic care, water, and less sunlight.
Here is a list of plants that are best suited for indoor use:
Money plant is one of the popular plants found in most Indian homes. It is known to improve air quality and grows quite quickly in soil and water.
The bamboo plant needs indirect sunlight, water and must be pruned regularly to give it an ornamental look. You must change the water once every two weeks to ensure that it is healthy.
Peace lilies are known to enhance indoor air quality. They don't need too much sunlight, water and are ideal for indoors. The lilies on the plant look strikingly beautiful.
Ferns are also popular in Indian interiors as they only need indirect sunlight and moist soil to grow well. Spraying water keeps the leaves green. Don't forget to water them daily.
Grape ivy is an ornamental plant that is also easy to maintain. It requires less sunlight, not very moist air, and minimum water to grow.
Anthurium is an exotic indoor plant that comes in different colours. Its flowers bloom throughout the year and is a brilliant addition to your home.
Painting
Choosing the right type of paint is as important as selecting the colour of paint for the walls in your home.
The must do's while painting your new home are as follows:
Use a primer before you paint the wall with an emulsion or oil-based paint. A primer is a base that ensures that the drywall does not absorb more paint. Also, the primer acts as an adhesive so that the paint sticks to the wall.
No. of coats - use more than three coats to ensure that the colour of the wall pops out. You will need to use more paint if you don't use a primer.
For painting wood, use polyurethane (PU) paint as it is waterproof and for painting the grills of the windows, railings, and doors, you can use metallic paints.
For the ceiling, use plastic emulsion-based paints in a smooth-acrylic, and matte finish that prevents light from reflecting off the ceiling.
Use chalkboard paints in the kitchen to write down grocery and to-do lists. You can also use these paints in your children's bedrooms.
Use washable and scrubbable paints in your children's rooms so that you can wash away the stains and scribbles.
Lastly, choose colours that will make your room look airy and bright.
If you are using a single colour for all your rooms, you can break the monotony by adding in colours in the form of paintings and furnishings.
Use wallpapers instead of paints if you want to give it a unique personal touch to your room.
Lighting
Lighting is not only used to illuminate spaces inside your home it has also become a key component of your home decor. For example, some lights set the mood and lights that are used as statement pieces on the walls.
Here are some of the lighting trends that are widely used now:
Pendant lights on a wooden panel to add depth to your dining or living room. The wood panel (with a glossy finish) reflects lights and adds a shimmering effect to your room.
Floor lamps in different sizes and shapes. A tripod lamp is an alternative for a lampshade as they look trendier than lampshades.
The other lights used are Edison bulbs, solar LED lamps, lamps with USB port for convenient charging, and floor lamps with a small shelf to store books.
These are some of the latest trends to consider while designing your home. For more such articles, visit www.propertyadviser.in, India's first property directory.
Property Adviser is a property directory that lists ready to occupy and under construction houses in Hyderabad. Log in to www.propertyadviser.in to find your dream home.
By: Lotus Tech
---