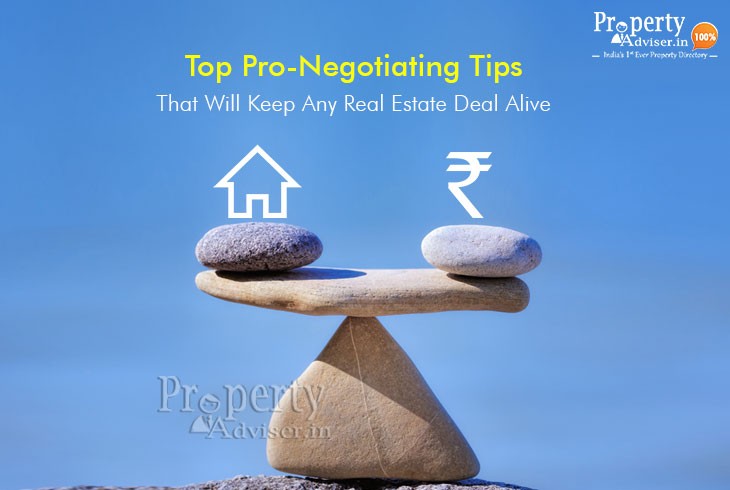 10:00 AM
12
Apr
2019
The art of negotiation is a significant feature while dealing with real estate. No one wants to invest their precious time and effort in a deal for it to go down. It will get on nerves when you realize that with a few strategies and with someone professional enough to be flexible is to deal with your property related issues.
This is where our team steps in. With simplified easy to use features, Property Adviser, India's best ever property directory has had helped a lot of sellers to reside in their ideal home.
For all home buyers and sellers, they need experts advice like real estate directory or property negotiator. As buyers and sellers stay apart at a mile's distance away not only in terms of the footage but also in sense of thinking, getting both sides to agree on thing takes a lot of patience and planning.
Usually, the seller won't raise the offer and the buyer doesn't want to reduce the cost. When strangled at this point, only an expert can find the right solution satisfying both the parties. If not the property will be a standoff. A standoff is a place where no one decides on anything which in turn results in the real estate deal to reach its end without closing.
As I said earlier, negotiating is an art, it isn't imposing your ideas on people to see things the way you do. It is a skill where you need to bring light to a hopeless situation and must deliver a solution which is beneficial for both parties. You need to provide various solutions for the problem and must guide them to make decisions.
Let's take a sneak peek into some of the points on how to negotiate a real estate deal to keep it alive or even sometimes bring it back from the dead,
Understand the issues
Numbers play a big role when it comes to either buyer or seller point of view. Analyze the market value of the property and never keep unrealistic deals. See why it is taking a lot of time to sell a property or why buyers are losing interest in that. The price symbolises profit or gain.
Always allow the opponent to take initiation, as it always allows you to fix a midpoint of the property. Like in case, if you are dealing on a seller side if you have declared the value of a property as Rs 30 Lakhs, the buyer may offer Rs 20 Lakhs or so, finalizing the deal at somewhere around Rs 25 Lakhs.
But, If the buyer makes the offer first like Rs 25 Lakhs at the starting itself, the seller can fix the price around Rs 35 Lakhs, and the deal may close around Rs 30 lakhs. So, it usually human psychology which never fails, by stating your offer first you will give your value to others. Always listen to what others say and let them make their offer first.
Create Hype
Everyone wants the best. To define a property to be the best, it depends on various features which particularly relies on the individual. As for some, the best may be an apartment for sale at affordable price, while for others it may be in the best locality, affordable price, amenities, and many more features.
To keep your property deal alive, apply pressure on the client saying, how the standoff deal has amazing features which they never want to miss or is the rightful one what they are looking for. Constantly always remind both parties, how valuable the deal is and may slip if they don't make the decision right away.
Whatever happens, no one wants to miss a great deal on a house. Create realistic situations like for a buyer tell how the real estate marketing is rapidly changing and they need to grab the deal before it increases. And for sellers, should take the best deal in front of them without waiting for unrealistic things to happen.
Know your Client
Property negotiators must not assume their client's perspectives. There are a lot of experts out there but only the one with relevant information will be able to close the deal. Know your client perceptive and their needs to buy or sell the property.
People don't always want to stick to the pricing, but it may also have a great deal of story behind it. Like in a buyer point of view he may have a certain interest in a particular area, amenities, type of the building he wants, environment of the property, nearby facilities, and many more.
In the same way, a seller may be in a hurry to sell the house and need the money right away without much waiting. In these situations, he may be willing to sell the property if someone pays the lump sum amount at the same time without wasting much time. So, it all depends on how much information you gathered about your client.
Conclusion
A few real estate negotiation tips may fetch you a lot of good results, that you may ever think of or even better. While it takes a huge amount of work to learn negotiation skills it all make it worth when things work out your own way.
While property negotiators may charge you high in your home search, Our PropertyAdviser team, to help homebuyers created a property directory portal. With all the accurate data on properties for sale in Hyderabad. We always ensure to keep up-to-date information on all the latest happenings of the real estate news.
By Govi
---