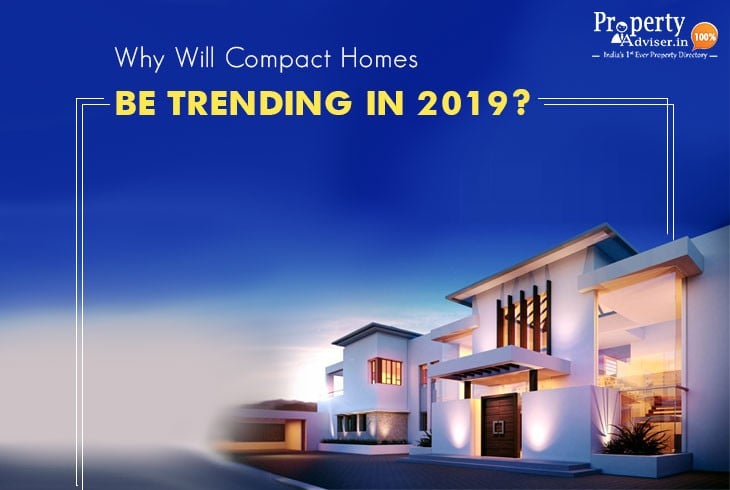 10:00 AM
13
Apr
2019
Living in a property of their own is the top priority for everyone. Irrespective of the house is an apartment, villa, independent house until the house is of your own it doesn't give the home feeling. But let's stop here and think for a moment? With families getting smaller and houses getting bigger does a huge spacious house do any good.
The traditional thinking of living in a huge house is reducing gradually all for the right reasons as a more substantial home comes with larger accommodation needs and increased maintenance and utility bills.
Why There Is an Increased Demand for Affordable Compact Houses?
Builders Preferred Choice
With the increase in population, the availability of land is reducing. As a saviour, Compact homes have become the smart option and are trending a lot in young people minds. Modern Compact houses are gaining demand as there are easily accommodable for many factors mainly as location, availability, price, and many more.
Furthermore, with rapid urbanisation, there is a rising in home demands and its getting struggle for owners of larger homes to sell their properties. To reduce this, builders are developing compact homes.
Compact Homes | The New Trendsetter
One of the top-most reason for the compact homes to get in demand is purely for its economic benefits. For many potential home buyers, to afford a house in popular areas are merely getting impossible, making the areas off the board for them while a small homes act as a way round to them.
Compact homes are economic drivers as they can be quickly built with suitable amenities, at the preferred location without worrying about the budget. They can be packed with all modern necessities to suit a contemporary lifestyle.
Accommodatable
For the past few years, family living is changed. In the late 90s, the entire family used to live in the same house as many generations. But, normal though they lived in the same house it used to be huge.
But, if we consider today's living, you may maximum find only one generation living in a house like one set of parents and children. At present, usually, the collection of the family doesn't exclude more than four to five members. So, typically they don't require more than two bedrooms.
Location Favoured
For anyone to buy a home, they consider a suitable location. Compact homes make all options available, as one can wishfully stay at their preferred place without worrying much about the price. There is no need for them to stay away from good locations and reside in the wilderness.
For working professionals to students, a family is composed of the different age group of people with various requirements. It one go for a large house at other locations, though they get a spacious living they will be faced with many challenges. Comparatively, small houses are advantageous for being budget and location friendly.
Less Maintenance
Large houses require a lot of maintenance costs whereas compact homes are budget-friendly and usually easy on utility bills. With less built-up area, you will have fewer rooms as per your family requirements.
While constructing compact houses, the use of raw materials will also be very less. And as the interior volume will be less, power consumption required to heal and cool the rooms will also be less. This in turn impacts on reduction in electricity, maid services, maintenance bills, etc.
Smartly Designed Homes
They can be constructed to accommodate all the necessities to suit a high functional lifestyle. With a smart set of principles, you can design it to feel like a spacious space. For example, use large windows for ample lightening and to reduce the compact feeling, reduce as much as furniture and concentrate more on appliances of wall hanging, keep the length of the ceiling as high as possible, give at least a small balcony or utility area.
Compact homes allow designing the house as per one's necessities and interests. You can easily plan to keep up with the latest trend by investing in home decors. As smaller houses have less space, the decor cost will be less and can be more innovative.
Good Resale/Rents
As Compact homes are trending a lot at present for many good reasons, the resale will be effortless. It is most likely you will get a good return for your investment on your home. Residential real estate is going at the sky-rocket pace. So, if you wish to relocate to another location without much hassle, you can sell your house.
Not to mention, even if you don't want to sell your house or to look for a tenant. You can easily find one. As there are a very minimal amount of people, who are willing to pay a considerable rent for large houses. Usually, tenants opt for small homes to reside.
Wrapping-Up
To boost their real estate sales, reputed builders are developing compact homes to attract home buyers. They are providing all luxurious amenities that one could think of in villas. Instead of constructing it in the house itself they are building community-based homes and providing facilities for the entire community.
It is a smart and safe option, as many consumers are looking for small compact houses to reside in their excellent location, with nearby facilities, an affordable price at the same time can design their homes as per their necessities with ultra-modern amenities.
Are you interested to know more about such trending real estate news? Or want to buy budget-friendly apartments for sale in Hyderabad? So, without much wait, browse our online portal ar www.propertyadviser.in for more details and find your ideal home today!
By Govi
---