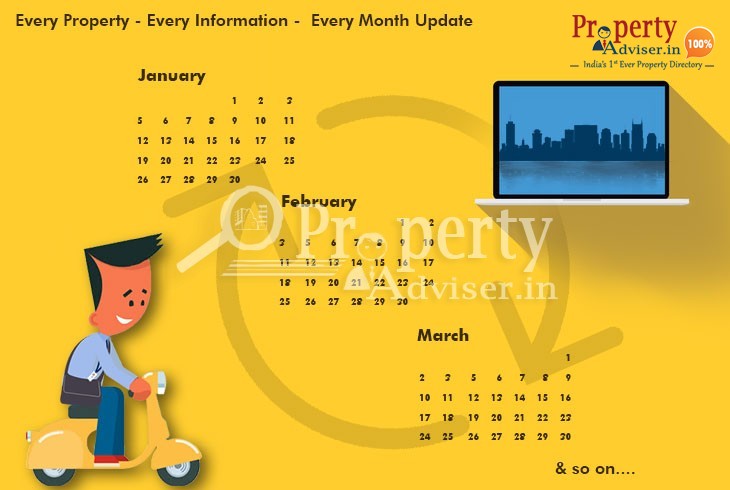 09:32 AM
30
Jul
2018
Property Adviser (www.propertyadviser.in) is a directory of residential projects in Hyderabad with intuitive search filters geared for individual home buyers.
We provide first-hand information on every kind of construction activity (under construction and ready to occupy) in Hyderabad.
If you want to buy a house in Hyderabad by searching online, register here.
You can check out our features here.
How do we do get project updates?
The Property Adviser team visits each project site every month and report on the progress of the project.
We take photos and upload the different stages of construction, floor plans, amenities, and update the number of available units on the website.
We also report the developments in the infrastructure around the project site to our data analysis team.
They upload all relevant details applicable to every project surveyed by Property Adviser team.
What's more?
We also revisit all the projects in Hyderabad monthly to get accurate and recent data on the construction progress. And, the latest offers and seller announcements.
The data collected is then vetted by Property Adviser data analyst team, and they add all the details to the website
Property Adviser (PA) has a user-friendly interface with filters such as budget, size, location, availability. The favourites option lets you shortlist a project and add to your favourites list. We notify you whenever there is an update so you can track the progress of your favourite project.
To know more about the favourites option, click here.
The 'saved search', 'compare properties', 'area' pages are other exclusive features available for registered users in www.propertyadviser.in.
How often do we update project information?
We update project information every month. Our team visits the project site to get these updates.
There are other updates from the seller/builders such as available units, construction progress, price increase or decrease, offers, discounts, and so on. The Property Adviser team gets the updates directly from the seller.
The information we get is supported by photos clicked on the project site. Therefore, it is accurate and recent. As a registered user, you get exclusive access to this information which is not otherwise available on any other online real estate portal.
All the photos are time-stamped, and the data is accurate. We also perform a monthly review to find information to update on our website.
Moreover, every time we update the project, we will send you a notification via SMS and email so that you don't miss any of the updates.
The unique features of Property Advisers are as follows:
Home search is now just a click away.
There are filters such as location, price range (min-max), size, type, occupancy, facing, and so on.
You can search any new property in Hyderabad real estate market easily.
You get to know the age of the house, date of possession, similar properties in the same locality, price range, and so on.
All these unique features save you time and effort in your house search.
Login to www.propertyadviser.in to register for project updates and many other exclusive member features that are all available free of cost.
By: LOTUS TECH
---