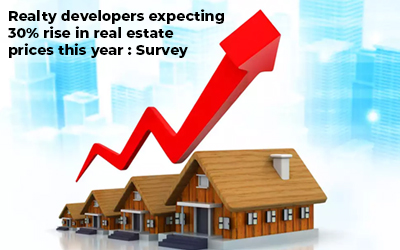 Realty developers expecting 30% rise in real estate prices this year
The Real Estate Developers Sentiment Survey 2022 held by CREDAI from December 2021 to January 2022, reported that around 60 percent of developers predict a price surge up to 20 percent in 2022, due to increased prices of building material.
The survey also notified that approximately 35 percent of respondents expect a 10-20 percent price rise, 25 percent expect a 10 percent hike, and 21 percent expect a 20-30 percent increment.
CREDAI-National President Harsh Vardhan Patodia said, "With the onset of the new third wave, we are expecting the government to look at additional measures for preparedness and controlling any further impact of COVID-19."
The majority of developers are emphasizing digital transformation which has led to heightened online sales with around 39 percent of developers selling 25 percent stock online. This is anticipated to increase furthermore.
The report brings out the prime troubles of the developer community encompassing controlling the input cost, introducing credit input on GST, increasing availability for funding, streamlining, and faster approvals for projects.
The survey also disclosed that 92 percent of respondents are intending new launches in 2022. And around 65 percent of developers agreed to explore new business models in 2022 like co-working, co-living.
Disclaimer: The information provided above is for informational purposes only. https://propertyadviser.in does not guarantee the accuracy, completeness, or reliability of property.
Was this Article Helpful ?