With the arrival of 2020! At PropertyAdviser.in, we're are more than excited for everything that's in store for all the real estate stakeholders. But first, we want to take you on our website's 2019 journey that enhanced the user experience of the 1.30 Million+ average yearly users who entrusted us to be part of their real estate journey.
Let's deep dive into some of the major highlights of 2019 releases:
Home Search Made Easier with Smart Property Search Filters
In this fast-forwarded era, everyone wants information just in a fraction of seconds, and we ran errands to make this into reality to become the best real estate website. To uncomplicate your properties' search, we have improvised our property search filters with advanced machine learning. For instance, you can now choose up to 5 suitable areas, sizes, budget, facings, community types, all needed options that will refine your search to find your perfect home in one place.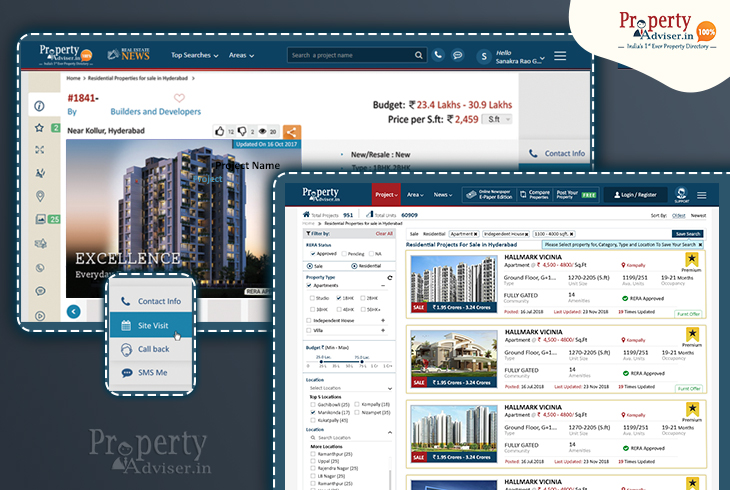 Directing you to your selected properties, we integrated with google maps and provided "Get Directions" option on our property website to navigate buyers through their dream homes. We provided graphical analytics display features like site visit, call back, SMS me, price negotiation, and more to directly connect users with builders. We also reworked on our page speeds so that every action is more relaxed and comfortable. Now, our property site page loads ten times faster and can get you all the needed information just like that.
New Improvised Analytical Area Page for a More Familiar Neighbourhood
One of the most significant aspects of buying a home is the neighborhood since the location of property dictates everything from the past to the future. This is what our new area page is all about! Without compromising on the design of our property website, we completely redesigned our local pages for a better understanding of the location for users.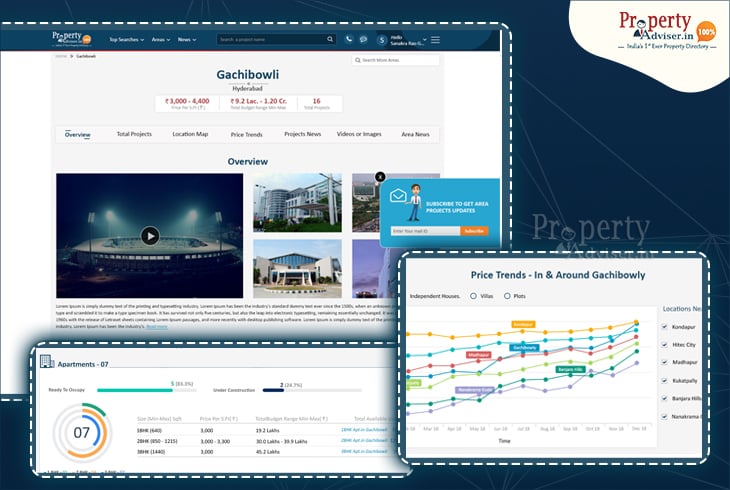 We upgraded our page with the latest elements that provide analytical information on the number of units, types of properties, new infrastructural upgrades, google maps for the area overview, price analysis, monthly updates, to name a few for a complete overview of the area. From infrastructural developments to past & present price fluctuations, our customers can quickly learn full details about the area for informed locational decisions
Property Expert Guidance (PEG) | A buyer-oriented 100% Transparent Service for a Complete Insight into Projects
Excellent architectural design, consistent commitment to lifetime quality, and a spectacular locational advantage is the rightful desire of every home buyer. To make this dream come true! We have launched PEG service to help customers in identifying properties that fit all their requirements with the best quality at the best price for smart, profitable decisions.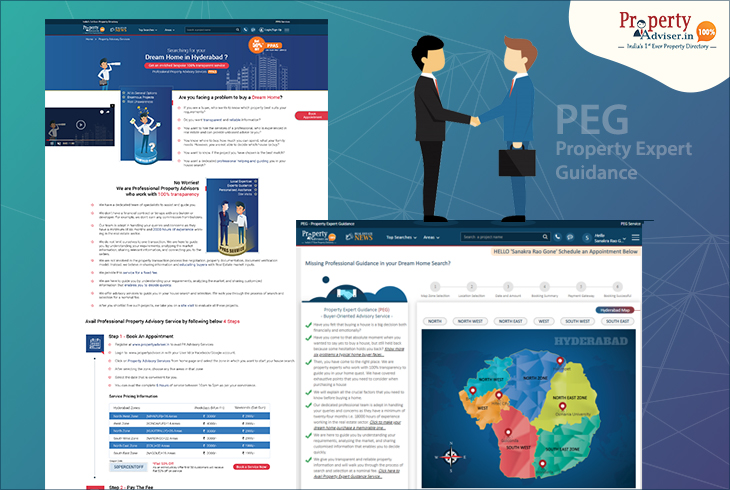 Property Expert Guidance provides complete insight into properties with in-depth project and area analysis for a clear perception of projects. With years of local expertise and maintaining a buyer-friendly attitude, our experts carefully study customer's home and family requirements. Based on customer queries, search patterns, and behavior, our team rule out some properties and take buyers for site visits. Before taking to site visits, all project details are priorily shared with the buyers for a more well-informed experience.
All Plots in Hyderabad Covered | RERA Registration status on Projects
In response to tons of customers' feedbacks, PropertyAdviser.in has started on plotting project listings and has successfully covered every plot for sale in Hyderabad. It is to make our buyers get all the necessary data on residential properties available for sale in one place. Now customers can find around 236+ plotting projects for sale in every corner of Hyderabad on our website.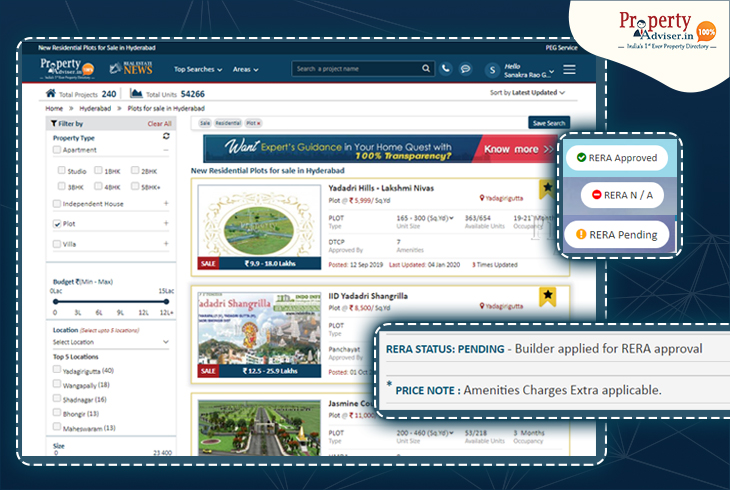 What's more, is that we know there is a growing concern for buyers to know on the RERA registration status on projects. Since we are covering all projects, how can we miss out on this! So, for the convenience of our users, we are providing RERA approval/pending/applied status on projects.
User-Friendly Upgrades for a Smooth interface
Since a lot of our customers stay connected and entrusted us to be part of their real estate journey, we have done some user-friendly upgrades on our website. Managing subscriptions has never been easier before since you can now subscribe to different types of categories like the project, area, blogs, e-paper all in one place.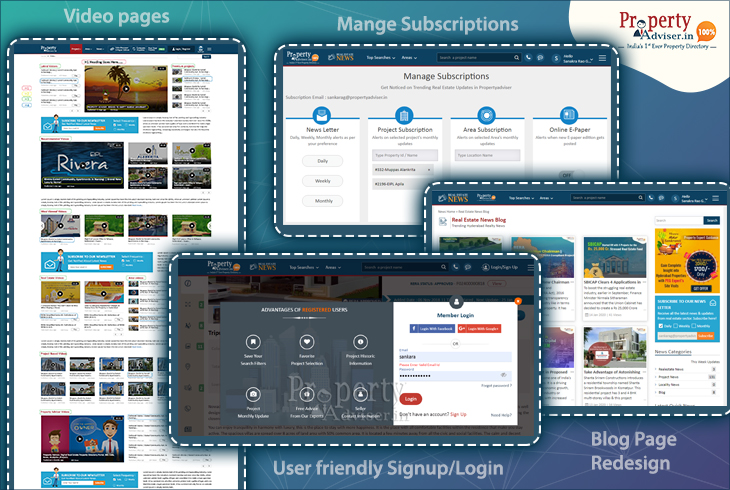 For an easily accessible information experience, we have upgraded the design of our pages and created all real estate news sections for you to stay updated with all the latest real estate happenings. For the convenience of our audience who want to be a part of us, we made a hassle-free signup process. Although text plays its role, we know our users need a visual representation of the project for a better understanding, covering this criterion we have a dedicated project videos page, where users can watch all project videos at ease.
We thank our beloved customers (buyers, builders, investors, brokers, and bankers) who shared their valuable feedback and been part of PropertyAdviser.in in making us the best real estate website in Hyderabad. Our team has spent a lot of time concentrating on every minute details of the client's inputs in 2018 and implemented them to give a better user experience in 2019. With more interactive features and expansion to 11 cities in 2020, we are all set for our future endeavors to become the one-stop real estate destination for our users.
By Govi