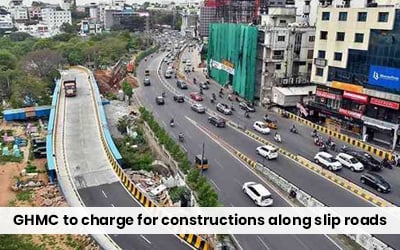 GHMC To Charge For Constructions Along Slip Roads
As the Hyderabad Road Development Corporation (HRDCL) intends to formulate 104 new link roads in 10 Urban Local Bodies (ULBs), the Greater Hyderabad Municipal Corporation (GHMC) has taken a collective decision to impose taxes on constructions along the slip roads.
The civic body with the participation of the Hyderabad Metropolitan Development (HMDA) has agreed on a raised number of property owners who are hoping to improve their properties alongside the slip roads.
The HRDCL will commence the development of slip roads to strengthen connectivity and decrease traffic problems.
Based on the orders received from the Municipal Administration and Urban Development (MAUD) Minister KT Rama Rao, the 10 ULBs comprise Bandlaguda Jagir, Ghatkesar, Kothur, Dammaiguda, Nagaram, Badangpet, Shamshabad, Ibrahimpatnam, Manikonda, and Jawaharnagar municipal corporation.
Proposals to build the 104 new link roads have been delivered to the government, after outstanding consideration by Police Commissionerates and public representatives.
The HRDCL has begun the advancement works on 47 link roads in phases I and II. From these 47 works, almost 31 roads have already been completed. The development of 16 other link roads is progressing.
The MAUD is conducting surveys to develop alternative roads to reduce traffic congestion because of the growing population.
Disclaimer: The information provided above is for informational purposes only. https://propertyadviser.in does not guarantee the accuracy, completeness, or reliability of property.
Was this Article Helpful ?