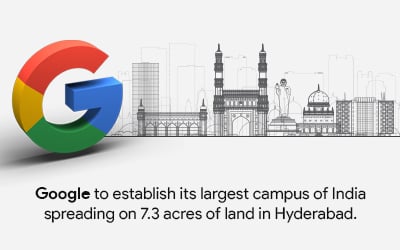 Google to establish its largest campus of India spreading on 7.3 acres of land in Hyderabad
Google endorsed its largest campus in India at Hyderabad which will be spread across 7.3 acres in Gachibowli's financial district.
A 3.3 million square feet building will be established near Amazon's largest global campus. Google uncovered the design of its ground-up development at the location on Thursday.
Telangana IT Minister KT Rama Rao accompanied by Google India's Vice President and Country Head Sanjay Gupta carried out the iconic ceremony. Sunder Pichai had spoken of this event.
The project was initially announced in 2015 and started officially on Thursday, with the internet-breaking records for the project that was originally planned at a cost of ₹1,000 crores.
IT Minister K.T. Rama Rao and IT Principal Secretary Jayesh Ranjan, Country Head and Vice President of Google Sanjay Gupta said after communicating to the media on Thursday that the new campus has the potential to lodge almost thousands of people over the next few years, as India and Google keep thriving.
This new campus being established is a step heading toward the tech giant planning for the future.
To date, Google has established around 10 of its offices in Hyderabad, which is one of the tech giant's largest employee centres.
Disclaimer: The information provided above is for informational purposes only. https://propertyadviser.in does not guarantee the accuracy, completeness, or reliability of property.
Was this Article Helpful ?