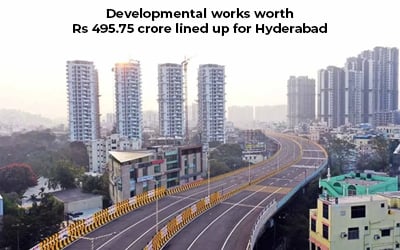 Hyderabad Has Development Projects Worth Rs 495.75 Cr Planned
Many infrastructure developments worth ₹495.75 crores have been scheduled in Hyderabad.
The six-lane bi-directional flyover at Bahadurpura and the 2.55 crore Mir Alam tank musical fountain have been launched by the Minister, while the foundation stone has been laid to refurbish Sardar Mahal, Mahbub Chowk, and Mir Alam Mandi.
The Minister laid the foundation stone to establish the Kalapathar Police Station, adding to the updating of the sewerage network near the Mir Alam sewerage plant and Karwan.
The GHMC in a press release said that the Bahadurpura flyover was constructed as part of the Strategic Road Development Plan, 45 properties were obtained, and power utilities had to be moved.
The 690-meter flyover will bring much-needed relaxation to travelers moving in various directions through the busy Bahadurpura Junction and to those touring the Nehru Zoological Park.
Meanwhile, the sewerage network at three places in the Hyderabad parliament segment will be reworked costing around ₹297.30 crores.
To retain Hyderabad's heritage ₹21.09 and ₹30 crores will be spent to revive Mir Alam Mandi and Sardar Mahal.
Another historic structure, Murgi Chowk, popular as Mahbub Chowk Market and works will be renovated costing ₹36 crores.
Disclaimer: The information provided above is for informational purposes only. https://propertyadviser.in does not guarantee the accuracy, completeness, or reliability of property.
Was this Article Helpful ?