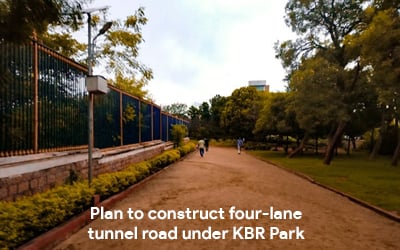 A Four Lane Tunnel Road Is Being Built Beneath KBR Park
The Greater Hyderabad Municipal Corporation (GHMC) has come up with a plan that will help in solving the problems caused by the traffic jams in the city of Hyderabad.
The plan made by the civic body (GHMC) includes the construction of an underground tunnel road. This tunnel road will be constructed under the KBR Park at Jubilee Hills.
The 6.30 km tunnel road will connect Jubilee Hills road number 45 and Banjara Hills road number 12.
The project is anticipated to cost nearly ₹5000 crores. The actual cost can only be calculated after obtaining a feasibility study report.
The tunnel road will be constructed 100 feet (30 yards) below the ground without wrecking the ecosystem of KBR Park.
This road will ease traffic without any interruptions and also reduce sound pollution and any other major disturbances around.
If the plan proceeds successfully, this tunnel road will be the second largest in the country.
GHMC has recently given a tender notification to assess the future of this project. The pre-bid meeting was attended by three bidders of which one will be chosen based on their prior experience and qualification. They are expected to submit their formal bids by May 2.
Disclaimer: The information provided above is for informational purposes only. https://propertyadviser.in does not guarantee the accuracy, completeness, or reliability of property.
Was this Article Helpful ?