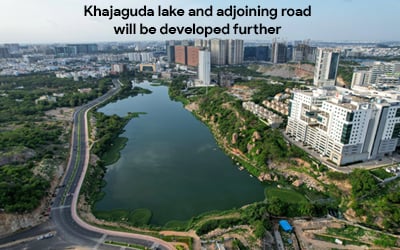 Khajaguda Lake And Its Surrounding Road Will Be Further Improved
Municipal Administration & Urban Development (MA&UD) Minister KT Rama Rao said that the Khajaguda lake and the road that adjoins it will be under development from now onwards.
KT Rama Rao had also hinted about the exclusive events that are being conducted there.
The Minister was giving a reply to a child's tweet in which he thanked him for developing the road adjoining the lake and requested a few solutions that would resolve the problem of traffic on the street, making it free at least on weekends.
"Thank you #KTR uncle for the beautiful #Khajaguda Lake road showing the #HiTech #Hyderabad. Pic Credit – @babakishore Wish if there are no vehicles moving on this road on weekend evenings, kids can walk freely. @KTRTRS #TanishMutta"
Rama Rao revealed the plan which is to transform the water body and its adjoining road into a recreational place for families.
Responding to the tweet, the Minister said: "Thanks for the kind words. We want to make this road and the adjoining lake even more beautiful places for families and kids to hang out
@ZC_SLP is working on it and hopefully, we can do something along the lines of an exclusive event for weekends."
Disclaimer: The information provided above is for informational purposes only. https://propertyadviser.in does not guarantee the accuracy, completeness, or reliability of property.
Was this Article Helpful ?