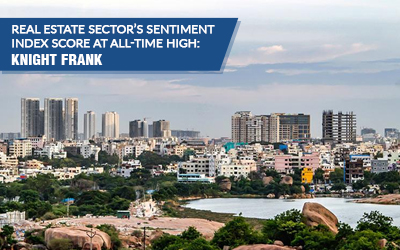 Real estate sector's Sentiment Index Score at all-time high: Knight Frank
Knight Frank-FICCI-NAREDCO Real Estate Sentiment Index – Q4 2021 stated that the prevailing Sentiment Index Score of the sector attained its all-time peak of 65. Reduced uncertainty on the economic cover stimulated stable demand in the real estate sector steering such development.
A score of above 50 implies 'optimism' in sentiments, a score of 50 means 'neutral', while a score below 50 infers 'pessimism'.
From the viewpoint of office markets, the report asserted that 61% of respondents in Q4 2021 anticipated office leasing to remain stable over the next 6 months, and stakeholder prospects for office rents have expanded in Q4 2021.
In terms of new office supply, 88% of the Q4 2021 respondents foresee new office supply to either remain stable or rise in the next six months.
On the residential market viewpoint, 72% of the Q4 2021 survey respondents expect sales to remain stable, while 75% of reviewed stakeholders think new supply may decrease in the next six months.
62% of the respondents predict residential prices to fall in the next six months because of Omicron. When the residential price increase was peaking, the ongoing third wave negatively impacted stakeholder conceptions. Despite this, stakeholders are positive, yet careful.
Disclaimer: The information provided above is for informational purposes only. https://propertyadviser.in does not guarantee the accuracy, completeness, or reliability of property.
Was this Article Helpful ?